Trump Shares Video of Lou Dobbs Congratulating Him: POTUS Still Standing After 'Deep State' Assault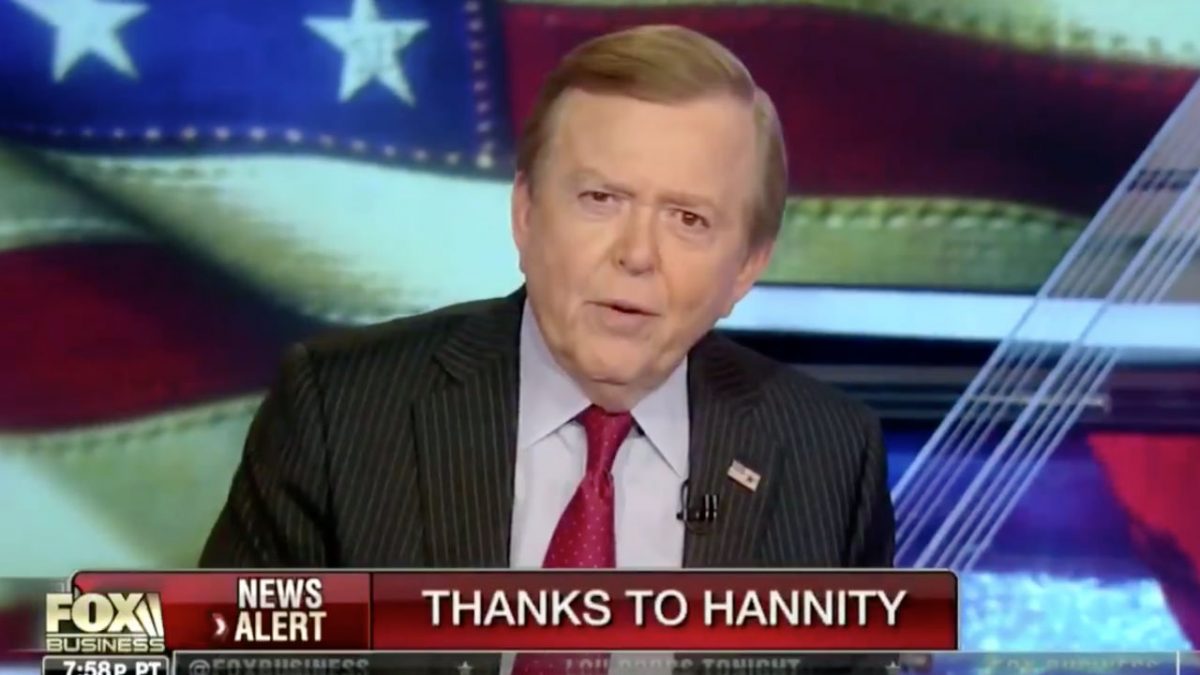 President Donald Trump today shared video from Fox Business showing Sean Hannity and Lou Dobbs praising each other's Russia coverage after the conclusion of the Mueller report, as well as Dobbs congratulating Trump on withstanding the whole process.
Following the letter from AG Bill Barr saying Mueller found no Trump-Russia conspiracy and did not reach a conclusion on obstruction, Hannity made a point of praising some of his Fox News and Fox Business colleagues, including Dobbs, Tucker Carlson, Laura Ingraham, and the hosts of Fox & Friends.
Hannity said they were all the ones "advocating for the truth" on Russia.
"And Sean, good on you. Great work," Dobbs responded in kind.
— Donald J. Trump (@realDonaldTrump) March 27, 2019
Dobbs went on to congratulate Trump:
"Congratulations to the president, who's the only one I know who could have really stood the more than two-year-long assault by the radical Dems and the deep state. They tried to overthrow the Trump presidency and our republic in what has amounted to now the biggest political scandal in American history. It's about to get larger."
The Dobbs clip was the sixth Fox-related tweet in a row from POTUS, following him quoting The Federalist's Sean Davis on Tucker Carlson last night, sharing two other Dobbs clips (one with Stuart Varney), touting Fox News' ratings, and sharing a column by Gregg Jarrett.
"I think this is probably the most consequential media screwup of the last 25 to 50 years. It is difficult to comprehend or overstate the damage that the media did to the Country, to their own reputation or to the Constitution. An absolute catastrophe" Sean Davis @TuckerCarlson

— Donald J. Trump (@realDonaldTrump) March 27, 2019
— Donald J. Trump (@realDonaldTrump) March 27, 2019
— Donald J. Trump (@realDonaldTrump) March 27, 2019
The Fake News Media has lost tremendous credibility with its corrupt coverage of the illegal Democrat Witch Hunt of your all time favorite duly elected President, me! T.V. ratings of CNN & MSNBC tanked last night after seeing the Mueller Report statement. @FoxNews up BIG!

— Donald J. Trump (@realDonaldTrump) March 27, 2019
.@GreggJarrett: "Trump-Russia 'collusion' was always a hoax — and dirtiest political trick in modern US history" https://t.co/H59Q1UL64g

— Donald J. Trump (@realDonaldTrump) March 27, 2019
[image via screengrab]
Have a tip we should know? tips@mediaite.com
Josh Feldman - Senior Editor