Trump Supporter: Anti-Trump Republicans Should Air Their Grievances in Private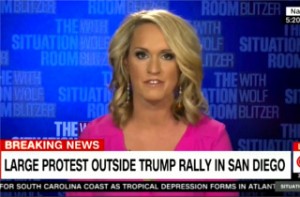 Speaking to CNN's Wolf Blitzer Friday afternoon, Trump supporter Scottie Nell Hughes blasted Republicans who voiced their objections to the presumptive nominee in public.
Blitzer asked her to respond to an interview published in the Wall Street Journal, in which Mitt Romney said that Trump exhibited "a temperament and a character unfit for the leader of the free world."
"As we say here in the south, bless his dear heart," Hughes quipped. "You shoulda' said your piece and then sat down and been quiet," she said, speaking rhetorically to Romney.
She claimed that the 2012 nominee was hemorrhaging whatever respect he still had within the GOP by engaging in "publicity stunts" like the WSJ interview, which only served to help the Democrats.
Hughes also vociferously supported Trump for insulting New Mexico Gov. Susana Martinez multiple times this week because she had not yet backed him and did not appear at Trump's rally in Albuquerque this week.
"Does he need to grow a bit of a tougher skin?" Blizer asked.
Hughes maintained that Trump rightfully criticized Martinez, adding:
The main reason why she did not come to the event and why she publicly made comments that were meant to hurt Mr. Trump was to pander to […] Hispanics that now live within her state, as well as to keep herself in good sitting with former governor — president of the governors council — like Mitt Romney, possibly even [Republican Former Mississippi Governor] Haley Barbour. This was nothing about what was good for our party. And keeping Hillary Clinton out of the White House, which should be the goal of every Republican right now, as instructed by Chairman Reince Priebus in the last couple emails he has sent out to the party.
Given that Martinez is a woman, a Latina, governor of New Mexico, and chairwoman of the Republican Governors Association, Blitzer suggested, wasn't winning her support more important than Trump giving voice to his hurt feelings?
But Hughes displayed the adamantine support for Trump that has made her an object of occassional parody. "Her public disapproval of him" was the reason for Trump's criticism.
Republicans who disagreed with Trump should keep it to themselves, or refrain from speaking publicly about it, she said. She criticized what she called "these public PDA kind of attention getting factors like I've seen Susana Martinez do over the last few weeks." ("PDA" stands for "public displays of affection," presumably not what Hughes meant to say.)
"We get it. You don't like Mr. Trump. But for the good of the party will you please at least air it to his campaign in private? Air it to him." she said. Otherwise, anti-Trump Republicans were only "bringing embarrassment to the party and hurting our chances in the fall."
[image via screengrab]
Have a tip we should know? tips@mediaite.com