Trump Supporter Says He Hopes 'We All Get Our Wish' That Hillary Will Drive Off Cliff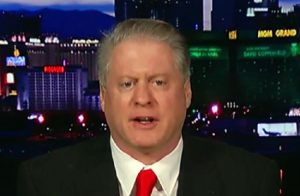 Speaking at Donald Trump's Las Vegas rally earlier today, conservative pundit and Trump supporter Wayne Allyn Root fantasized about Hillary Clinton's death.
Early on in his speech, the 'Angry White Male' author whipped up the crowd by calling them the "Trump army" and "Trump warriors" who are a coalition that will "take this country back." He also welcomed them to the "Trump revolution."
Later on, he discussed how angry everyone is and how he's so confident Trump will be victorious next week that he went to England to place the largest bet of his life on Trump to win. Root made a comparison to Brexit, calling the upcoming Trump victory "Trexit."
The talk show host noted that there will be "serfs" and "taxpayers" who will be headed to D.C. with "pitchforks, jackhammers and blow torches" to put the elites on notice. Referring to Hillary, he said "we're coming to put you in prison."
This turned into a fantasy that referenced a number of late-80s and early 90s pop culture flashpoints, such as the OJ Simpson case and the movie Driving Miss Daisy. He then added Thelma and Louise and its famous ending into the mix.
"It's Hillary in a White Ford Bronco," Root shouted. "She's got Huma driving and they're headed for the Mexican border. I have a name for the future TV movie. It's called Driving Miss Hillary. And the ending, if we all get our wish, is like Thelma and Louise!"
At the end of the movie, the two main characters drove off a cliff while fleeing law enforcement.
He also pointed out that "I will give you my country when you pry it from my cold dead hands."
Watch the clip above of Root speaking, via Right Side Broadcasting.
[image via screengrab]
–
Follow Justin Baragona on Twitter: @justinbaragona
Have a tip we should know? tips@mediaite.com