Trump-Supporting Twitter Accounts Trend #BoycottHawaii Over Travel Ban Ruling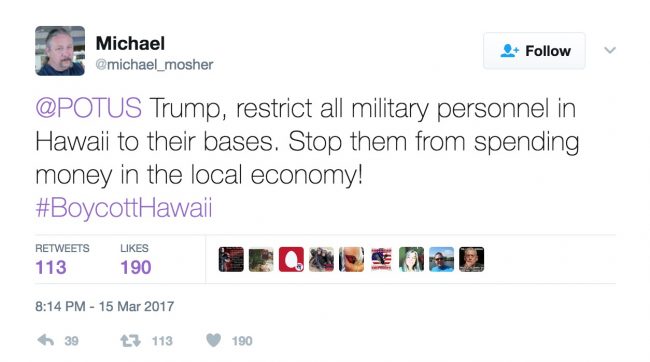 Twitter accounts that heavily promote Donald Trump are responsible for the #BoycottHawaii trend.
A federal judge in Hawaii issued an order Wednesday afternoon blocking several key portions of Donald Trump's new travel ban just hours before it was set to take effect at midnight, according to our friends at LawNewz. That seems to have made some Twitter users angry. (We say 'seems to' because it's honestly difficult to determine the level of sincerity held by the operators of these accounts. Scrolling their timelines, it tends to be more plausible that some of them are running a long-sighted trolling attempt than that they are genuinely tweeting about what they perceive as Trump's greatness every few seconds.)
Recall that when the cast of Broadway's mega-hit Hamilton upset Trump's Twitter fans by speaking to Mike Pence after a show, the users responded with a call to boycott that, too. Also recall that it's highly unlikely that any of them had access to tickets in the first place, as many people wait over a year for the chance to see the musical. At least when they boycotted Kellogg's for refusing to advertise on Breitbart, it was reasonable to assume that some actually had Raisin Bran in their homes.
Anyway, a bunch of people have been insisting that though they had tickets to Hawaii, they aren't going now. Others have been asking Trump to keep military personnel on base arrest or conflating the issue of taking in refugees with supporting undocumented immigrants.
#BoycottHawaii I was taking my kids & Grandkids to Hawaii. We just cancelled @gohawaii your Judge threatens our safety.

— *Wendy* ?? (@wendyvoss) March 16, 2017
#BoycottHawaii. Just cancel trip. @GovHawaii – Up YOURS #Hawaii. #Democrats flee Democratic Party https://t.co/wxD2IrdMaQ

— GOD IS FOR TRUMP (@mass_mont) March 16, 2017
Let's see if liberal judicial ideology is more important than tourist revenues to the state of Hawaii.#boycotthawaii

— Dr. Diane (@elmorephd) March 16, 2017
#DumpHawaii I guess we won't be going back there this summer Since Hawaii supports terrorist over American #BoycottHawaii https://t.co/H51tSU3nXL

— Deplorable E (@grandmaluper) March 15, 2017
#boycottHawaii I was saving for Hawaii & will now switch to Caribbean! You thought you'd suffer loss of 100 ppl with #EO just wait! https://t.co/GZ9aIIckPe

— OurKidsDreamsFirst! (@SoCalEdgyGal) March 15, 2017
Family was planning trip next year to Hawaii, We can find a much better place I'm sure. #BoycottHawaii https://t.co/VvZKoisXfW

— Sandy (@sandra8301) March 15, 2017
Hawaii had Dengue fever out break last year and now Chin wants to let in Terrorists cancelling my summer plan! @gohawaii #boycotthawaii

— American Voter (@Voter2017) March 11, 2017
@AP just in time to cancel travel plans and any $ I was planning to spend there #BoycottHawaii

— Fiscal Tweets (@FiscalTweets) March 9, 2017
Just switched my vacation plans! Heading east instead! Key West, FL here we come! ?? #BoycottHawaii ??#TravelBan pic.twitter.com/MX06yNj9oZ

— Theresa_Cali (@Theresa_Cali) March 16, 2017
@POTUS Trump, restrict all military personnel in Hawaii to their bases. Stop them from spending money in the local economy!#BoycottHawaii

— Michael (@michael_mosher) March 16, 2017
Hawaii can choose spending Millions of $$ a year to support illegals while also losing all of their TOURIST REVENUE $$ b/c we#boycottHAWAII

— America1st (@flarvrdvr) March 16, 2017
General reactions have been strong, too.
When #BoycottHawaii trends but then u find out its just pressed haoles cancelling their summer vacations with Billy and Samantha pic.twitter.com/JIVZZFDKAX

— Lei (@FYIBLD) March 16, 2017
#BoycottHawaii WE DIDNT WANT YOU COMING HERE IN THE FIRST PLACE?? WHILE UR AT IT, HOW BOUT GIVING US SOME OF OUR SOVEREIGNTY BACK? MAHALO!

— PRINCESS T (@kennedytiana) March 16, 2017
#boycotthawaii !! Nobody wanted you haoles trashing the beaches and destroying sacred land for the "cute vacay pics" anyways. Stay out.??

— ??court? (@_panipopo_) March 16, 2017
Lmao #BoycottHawaii. From the people who tried to boycott a sold-out hit musical and one of the most successful coffee chains in the world.

— Elizabeth Rogers (@e1izabethrogers) March 16, 2017
I'm seeing deplorables saying they will #BoycottHawaii and come to Florida. We don't want you domestic terrorists here either.

— George W Bush (@George_W__Bush_) March 16, 2017
#BoycottHawaii good you would hate it here. Whites are a minority, the food isnt just chicken or steak, & we integrated many CULTURES

— Masta (@Masta808) March 16, 2017
Hawaiians when they hear Trump supporters don't want to come to Hawaii #BoycottHawaii pic.twitter.com/4mZ4ZBrpoG

— LaurenNY-7??? (@AaliyahNevaeh7) March 16, 2017
Another day, another boycott.
[image via screengrab]
——
Have a tip we should know? tips@mediaite.com