Trump Testifies That Speech Against 'Rapist' Mexican Immigrants Was Planned in Advance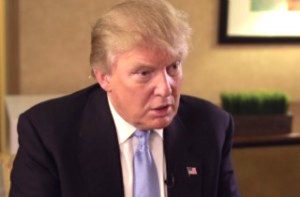 Donald Trump recently gave testimony for his legal battles against two celebrity chefs, during which, he said that he had plans to call Mexican immigrants criminals and "rapists" for some time.
It was approximately one month ago when Trump took time off from his campaign to testify against Geoffrey Zakarian, a celebrity chef who walked away from his deal to head up Trump's restaurant in his new Washington D.C. hotel. Zakarian's move came out of disgust with Trump's repeated  remarks against Mexicans. Trump sued him for breach of contract.
Politico is reporting on the closed-door deposition, where Zakarian's lawyer asked Trump if he thought about the effect his comments "would have on tenants in your current or future projects?" Trump said he did not, but that the remarks were planned in advance, and that the backlash he got over them is all due to the "dishonest" media.
"All I'm doing is bringing up a situation which is very real, about illegal immigration. And I think, you know, most people think I'm right."
Trump's deposition was supported by his daughter Ivanka, who said the suit against Zakarian was "a natural conclusion when he failed to honor his contract. We had to enforce our rights."
Zakarian said in his deposition that he was disturbed by Trump's comments from the very beginning, and that he kept asking the family to offer a retraction. When Trump continued defending the remarks, Zakarian decided to step away from the restaurant, which he said was certain to fail due to Trump's toxicity.
"There's reputation. There's financial," Zakarian said. "There's…familial reasons, because moralistically speaking, all my employees are Mexicans or Hispanics, almost all of them. It's disgraceful."
[Image via screengrab]
— —
>> Follow Ken Meyer (@KenMeyer91) on Twitter
Have a tip we should know? tips@mediaite.com