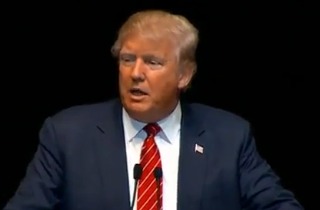 Remember back in September how Donald Trump said that CNN shouldn't accept any of the profits they made from the second GOP debate and should give it all to veterans charities? Well, he's doing it again.
Trump spoke at a Georgia rally last night, where he kept up his say-anything style with his usual blasts of "dumbass politicians" and throwing shade at just about everyone under the rainbow. However, in the latest of The Donald flaunting of his media magnetism, the GOP frontrunner is now threatening to charge CNN $5 million for his appearance at the next Republican presidential debate in retaliation for the oh-so-horrible coverage they've done on him, particularly his meeting with black pastors yesterday.
"How about I tell CNN, who doesn't treat me properly I'm not gonna do the next debate, okay," Trump asked the audience. "How about we do this for CNN: I won't do the debate unless they pay me five million dollars, all of which money goes to the Wounded Warriors or goes to vets?"
Even after he said that, however, Trump debated to himself whether holding the event ransom would weaken his poll numbers or cause people to view him as a coward.
"So, with CNN, here's what they'll say: 'Trump's chicken. He's afraid to debate. He's afraid to debate,'" Trump said. "Now: If you're not leading and you're going nowhere, you have nothing to lose. But wouldn't it be bad: I'm leading the polls, I don't do it, I play cute, because you're playing cute, right? It gets out I'm chicken, which I'm not. One thing I'm not is chicken."
In the end, Trump left things on an "I don't know" for whether he will take the chance.
Watch above, via RealClearPolitics.
[h/t Washington Post]
[image via screengrab]
Have a tip we should know? tips@mediaite.com