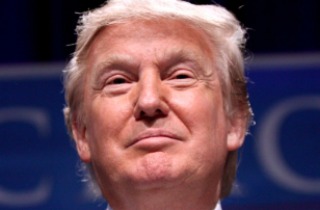 Donald Trump has made it clear in the past that ISIS countermeasures are just one of many points of disagreement between himself and President Obama. Trump recently told Fox's Greta Van Susteran that "[he knows] what to do" to bring balance to the Middle East, and now he's upset that no one has asked for his secret plan.
Trump told WHO Radio's Simon Conway that he has run his idea with "two or three" high ranking officials, and they, of course, "love it." Trump compared his plan to the invention of the paper clip, saying that it was "unbelievable" that the solution was "so simple, so surgical," yet he has not had any word from the Obama administration.
"You would think somebody from the administration would at least call me and say, 'Hey, could you tell us what it is,'" Trump said. He then admitted his reluctance to share his genius ideas with "a bunch of clowns."
Trump also described how one of his biggest gripes is watching Obama talk about military operations, saying it keeps ISIS informed of American movements and strengthens their resolve. He continued that Generals Douglas MacArthur and George Patton "must be spinning in their grave as you watch this president stand up and tell everybody what our intentions are… the enemy knows everything we're doing."
Trump then said, "I know a way that would absolutely give us guaranteed victory," but once again refused to disclose for fear of informing ISIS or allowing others to steal his idea.
You can listen to the interview here, via Soundcloud.
[h/t Raw Story]
[Image via Screengrab]
— —
>> Follow Ken Meyer (@KenMeyer91) on Twitter
Have a tip we should know? tips@mediaite.com