Trump's Rafael Cruz/Enquirer Tall Tale Inspires #TrumpConspiracyTheories Hashtag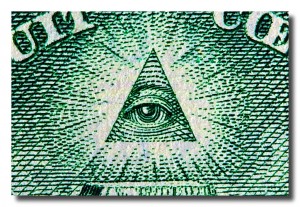 On Tuesday morning's Fox & Friends, the man who will soon be representing the entire Republican party very casually opined that one of his political competitors was the son of someone who assisted in the assassination of President John F. Kennedy.
It's only the latest bizarre, head-scratching, and hopelessly confusing saga out of the Trump 2016 campaign. But it happened, live on-air Tuesday morning, as Donald Trump cited a — wait for it — National Enquirer cover story linking Rafael Cruz, the father of Texas Senator Ted Cruz, to Lee Harvey Oswald, the presumed murderer of JFK. While speaking with Fox & Friends Tuesday, Trump responded to criticism from Rafael Cruz by linking the senior with the Enquirer's sensational hot take that he was photographed long ago alongside Oswald.
Trump said Tuesday:
"You know, there's a whole thing and, you know, [Ted Cruz's] father was with Lee Harvey Oswald prior to Oswald's being — you know, shot. I mean, the whole thing is ridiculous. What is this, right prior to his being shot, and nobody brings it up. They don't even talk about that. That was reported and nobody talks about it. But I think it's horrible. I think it's absolutely horrible that a man can go and do that."
In addition to the claim that "nobody brings it up," apparently nobody fact checks either; Trump's assertions were left unchallenged by the Fox News hosts. The result — in addition to the usual nation-wide facepalm that will assuredly lead to a massive Trump victory tonight in Indiana — was a hilarious new hashtag that people on Twitter are using to bash the Donald's argument: #TrumpConspiracyTheories.
Here are some of the best Tweets so far:
Lyin' Ted is Becky with the Good Hair. #TrumpConspiracyTheories pic.twitter.com/9E4KYOmVGI

— Frank Ramblings (@FrankRamblings) May 3, 2016
Crystal Pepsi was also Raphael Cruz's fault #TrumpConspiracyTheories

— Tom (@tsummers10) May 3, 2016
Rafael Cruz is the mastermind behind #nickelback & #JustinBieber #TrumpConspiracyTheories

— AngieSenseiofSarcasm (@Artist_Angie) May 3, 2016
Rafael Cruz posed as a young German girl. Eventually corrupted Hitler. Nobody knows! BAD!#TrumpConspiracyTheories pic.twitter.com/03aeFhiZKh

— Donald J. Trump I (@realDomaIdTrump) May 3, 2016
#TrumpConspiracyTheories Rafael Cruz broke up the Beatles pic.twitter.com/LKgLJxRqcP

— Mike (@mikesta12) May 3, 2016
Malaysia MH370 disappeared into the 5th dimension #TrumpConspiracyTheories #INPrimary

— Shmuel Sashitzky (@shmuelsash) May 3, 2016
Why was Rafael Cruz on the Titanic hours before it sank? This is horrible! Believe me.#TrumpConspiracyTheories pic.twitter.com/Ior9g1EBsB

— Donald J. Trump I (@realDomaIdTrump) May 3, 2016
That eye on the dollar bill? It's actually Ted Cruz watching you through a triangular hole. #TrumpConspiracyTheories pic.twitter.com/Kq3W9MpTAw

— jimgeraghty (@jimgeraghty) May 3, 2016
Rafael Cruz triggered the bankruptcy of Trump Plaza! Nobody is talking about this. BAD!#TrumpConspiracyTheories pic.twitter.com/cN9dAuVtLu

— Donald J. Trump I (@realDomaIdTrump) May 3, 2016
Donald Trump bets "You're so Vain" is written about him. #TrumpConspiracyTheories

— RegularEd (@RegularEd) May 3, 2016
The Roswell Crash was a Mexican spy plane. #TrumpConspiracyTheories

— Roger (@Roger247) May 3, 2016
7/11 was an inside job #TrumpConspiracyTheories

— Derek Hunter (@derekahunter) May 3, 2016
So what else falls under #TrumpConspiracyTheories? Leave your best in the comments section below, because we know you're thinking of them too.
—
[image via screengrab]
Have a tip we should know? tips@mediaite.com