Trump's Retaliatory Cancellation of Pelosi's Trip Abroad Blows Up Twitter: 'We're a Failed State'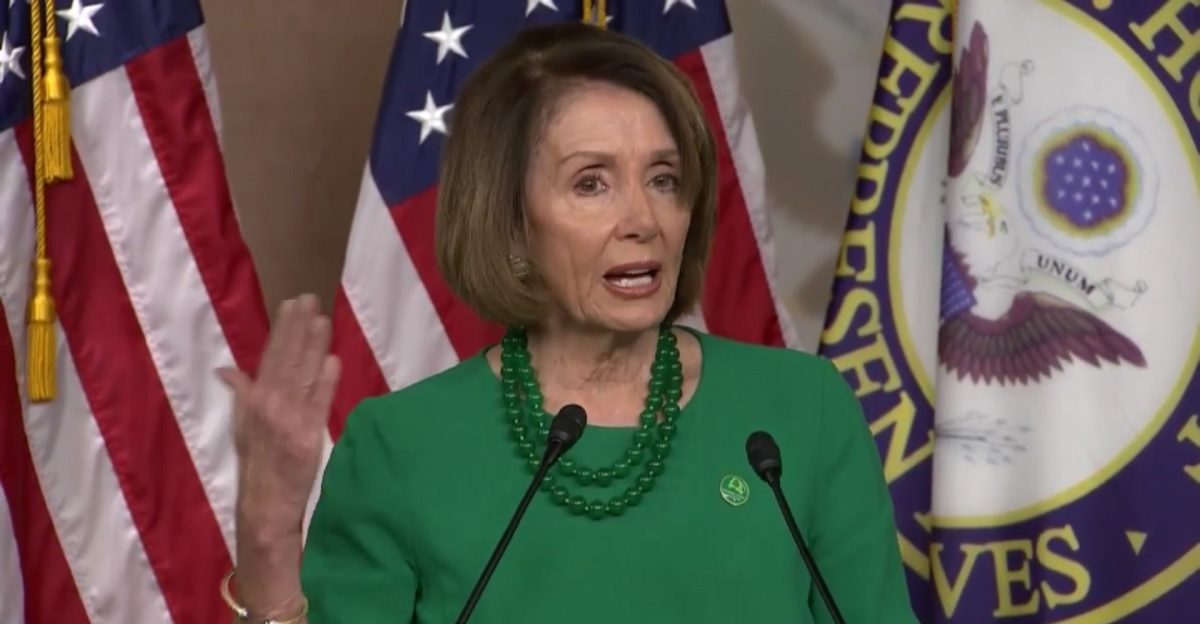 The Twitterverse is shaking its head in response to President Donald Trump's announcement that he's cutting off House Speaker Nancy Pelosi just as she was set to head on a congressional trip to Europe and the Middle East.
Yesterday, the House Speaker made headlines when she sent Trump a request to postpone his State of the Union address until the government is no longer shut down over their dispute on his border wall. Thursday, White House Press Secretary Sarah Sanders released a letter saying Trump is "postponing" Pelosi's congressional delegation to Brussels, Egypt and Afghanistan.
Trump says Pelosi can continue with her "public relations event" if she wishes, but she'll have to fly commercial instead of taking a military aircraft typical for U.S. delegations traveling abroad. Political observers are taking swift notice of this development and are offering a plethora of responses.
Some remarked that the shutdown didn't stopped Trump from going on his own travels abroad. This ties into questions of whether Trump will axe plans for his cabinet to travel to Davos in the coming days:
Trump traveled to Iraq, Louisiana and Texas during the shutdown. And he kept his Iraq trip secret until he landed.

— Manu Raju (@mkraju) January 17, 2019
On December 26th, President Trump visited Iraq. At that point, the partial government shutdown was five days old.

— David Gura (@davidgura) January 17, 2019
Will trump allow government/military plane travel for his cabinet to go to Davos next week?

— Josh Dawsey (@jdawsey1) January 17, 2019
Curious to see if half the cabinet and Javanka now sticks with the plan to go to Davos https://t.co/yhhZKY2K7d

— Glenn Kessler (@GlennKesslerWP) January 17, 2019
Others noted that Trump's announcement came shortly before Pelosi's delegation was scheduled to depart — and that he only found out about the trip Thursday morning.
Pelosi's trip to Afghanistan had been a closely held secret due to security concerns, of course. Very few people knew she was heading there. @SteveScalise mentioned Pelosi was headed to Brussels in his presser this morning, which angered Dems.

— John Bresnahan (@BresPolitico) January 17, 2019
Not only is @realDonaldTrump 's cancelation of @SpeakerPelosi 's CODEL petty, his suggestion that she fly commercial goes against protocol instituted after 9/11 at the request of the Defense Department owing to the Speaker being 2nd in the presidential line of succession. 1/

— Andrew Feinberg (@AndrewFeinberg) January 17, 2019
This letter reveals the secret travel plans into a war zone for one of the most high ranking officials in the US. https://t.co/Yhs4OMtkdp

— Micah Grimes (@MicahGrimes) January 17, 2019
DHS said it could handle security for State of the Union.

But a CODEL is a bridge too far?

— Aaron Blake (@AaronBlake) January 17, 2019
Trump is really suggesting Nancy Pelosi fly commercial into a war zone.

— Kyle Griffin (@kylegriffin1) January 17, 2019
And here's a mix of snark, anger, disappointment, and everything in between:
Overgrown man-child breaks three different types of security protocols, and exposes the planned overseas travel to a warzone of the third highest member of the U.S. Government, so that he can look tough for Ann Coulter. https://t.co/7hQjLTHYeE

— Bradley P. Moss (@BradMossEsq) January 17, 2019
The "I know you are but what am I" U.S. government.

— Andrew Desiderio (@desiderioDC) January 17, 2019
My first reaction when reading this was that it was like the fake Washington Post copies circulating yesterday. No one can be this unpresidential and petty, can they? (And then I remembered who the President was.) https://t.co/b0f6SMeQvD

— Neal Katyal (@neal_katyal) January 17, 2019
Anyway, seems like we're really close to a deal.

— Matt Fuller (@MEPFuller) January 17, 2019
OH NO HE DIH ENT! pic.twitter.com/uAkDFa71Q1

— Ben (@BenHowe) January 17, 2019
Well this is going well https://t.co/QuSWTAqASW

— Alex Wagner (@alexwagner) January 17, 2019
The activist right cheers on Trump canceling Pelosi's CODEL and the activist left cheers on Pelosi essentially disinviting Trump from giving a SOTU. Meanwhile America's dumbest shutdown continues and real people who don't watch cable news 24/7 suffer.

— Jamie Weinstein (@Jamie_Weinstein) January 17, 2019
Trump vs. Pelosi right now pic.twitter.com/YVWcb00vDI

— Ben Shapiro (@benshapiro) January 17, 2019
lol we're a failed state and the entire world knows it https://t.co/5vmISG2UPp

— David Klion (@DavidKlion) January 17, 2019
— —
>> Follow Ken Meyer (@KenMeyer91) on Twitter
Have a tip we should know? tips@mediaite.com