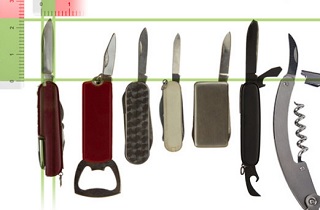 Maybe I'm a little bit late to this party, but it has come to my attention that the Transportation Security Administration has decided to lift restrictions on allowing certain items aboard airplanes, including small knives. This has prompted a fierce backlash from Congress, the airlines, and air travelers, who would rather not be stuck in a flying tin can for hours with cranky knife-wielding fellow travelers. This just in: add my name to the "backlash" column.
This week, Congressman (and possible future Senator) Ed Markey (D-MA) introduced a bill to override the TSA, and prohibit small knives on airplanes. Unfortunately, knives aren't all airline passengers have to worry about:
TSA chief John Pistole announced the changes March 5, saying they were made in part to reduce wait times at security checkpoints. He said small baseball bats, ski poles, golf clubs and hockey and lacrosse sticks also can be carried on board, starting April 25.
Knives, baseball bats, and hockey sticks? Is someone planning to shoot a mile-high remake of The Warriors?
In Googling the new rules, after I heard about it on NewsNation's "Gut Check" segment, I discovered this disturbing tidbit:
Pistole says the change in TSA's prohibited items policy is the third since Sept. 11, 2001. In 2005, knitting needles, scissors and screwdrivers up to 7 inches were taken off the list. And later, matches and lighters were allowed.
What? When did "no shampoo allowed" become "bring your own Thunderdome?"
I've long been a defender of the TSA's much-derided efforts to screen potentially harmful items from airplanes, efforts which have resulted in terrorists switching to explosives that don't really work. Having finally gotten Americans used to not bringing knives or Herbal Essence to the airport with them, why risk allowing these items on planes at all? Here's what Pistole told WTOP Thursday morning:
Pistole says he understands those concerns, but the primary focus of the TSA is to keep terrorists from blowing up and hijacking planes, and intelligence shows that small knives are not a significant threat.

He says the move will also bring America in line with international regulations, which have allowed small knives since 2010, Pistole says.
Maybe small knives are not a significant threat because they're not allowed on airplanes? Just spitballing, here. I don't even understand how this is supposed to save them any time. Are there really that many man-hours devoted to arguing with irate obsessive whittlers?
If the TSA really wants to help, they'll stop letting knives on planes (or knives attached to hockey sticks on planes), and concentrate on training their agents not to rape Geraldo.
Have a tip we should know? tips@mediaite.com