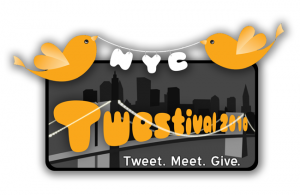 It's hard to remember it now, but a year ago, Twitter was still hovering on the fringes of the mainstream. Before Oprah, before Ashton vs. CNN, before Kim Kardashian was selling out in 140 character bits — a year ago, Twitter had yet to really make it. It was still being pronounced self-consciously by newscasters, Maureen Dowd still thought she was above it, Ev & Biz still had last names, the word "tweeting" still made us all cringe. That's almost a lifetime ago in Internet years: before ghost-tweeters, before #IranElection, before Tiger. Before all of that and more, there was Twestival.
Thanks to the ubiquity of Twitter, we're now used to the adorable "tw" words for events and people and things that matter to the 140 generation (you know, your tweeps!). But in early 2009, Twestival did something incredible: It raised over $250,000 for charity in a global campaign, entirely through the power of Twitter. "Twestival" stood for something new and innovative, the very best of what this nimble and amazing new platform had to offer, even if it sometimes sounded silly talking about it.
That was then, this is now. Words that start with "Tw" still sound goofy (sorry, tweethearts) but the power of Twitter is beyond dispute. In this lightning-fast real-time medium, information is shared, word is spread — and money is raised. That's where Twestival 2010 comes in.
Tonight in over 175 cities worldwide, Twestival 2010 will kick off in a global chain of parties fueled entirely by social media, with 100% of ticket sales going to Concern Worldwide, an international humanitarian and anti-poverty organization, for their efforts in childhood education. Thanks to the goodwill of sponsors, the enthusiasm of volunteers and the generosity of — yes — the Twitterverse, hundreds of thousands of dollars will be raised for Concern. Last year, over $250,000 was raised for charity:water. This year, we are are going to top that.
Now the pitch. YOU CAN STILL GET YOUR TICKETS! PLEASE COME!
There's a good chance that wherever you are reading this has a Twestival tonight. (And if you're reading this in Stockholm, your Twestival will also come stocked with tall attractive blonde people.) I am one of the organizers of NYC Twestival (New York City, yo! Cue Empire State of Mind), and our Twestival is going to be what the kids call "off the hook" — with prizes, a performance by high-energy Brooklyn funksters Shinobi Ninja, a giant interactive Origami bird (really), still more prizes, and highly attractive people with faces not only for the Internet, but for Internet TV (one of sponsors is Boxee, yo!). The grand total: $20/ticket — enough to send a child to school for 2 months with everything they need! — unless you are feeling like a big spender, in which case the VIP ticket is $100 and you get a sick gift bag. Up to you, fancypants.
If you're in another city, like San Francisco or LA or Chicago or Fresno or Rochester or Toronto or Boston or Milwaukee or Austin or Vancouver or Murfreesboro or Honolulu — or Manchester or Mexico City or Paris or Auckland — you can do it up there, too. As Ke$ha would say, the party doesn't start 'til you walk in; as Joe Biden would say, it's gonna be a big f**ing deal.
Events like this don't happen without the generosity of sponsors. This is the part that most of us tune out but I never will again after pounding the pavement trying to drum some up. Our sponsors have shown leadership and generosity in supporting not only Twestival and Concern Worldwide, but the online community and the power of social networks. They get it. They're it-getters. And we appreciate them so much. They are: PepsiCo, our lead sponsor (which has also shown such amazing leadership with its Pepsi Refresh social good project) plus Bing, CNN, PopChips, Foursquare, Boxee, Rypple and Syncapse — plus our media sponsors include the home team at Mediaite Styleite and Geekosystem. I don't like to brag, but our sponsors are awesome.
Twestival is awesome! And tonight will be, too. So now that you have no excuse &mdsah; not even being in Murfreesboro — please join us, and all the other tweeple spending twenty for a twonderful twelebration. So, don't be put off by the goofy moniker — like Shakespeare said, a rose by any other name would still smell as tweet.
See you tonight!
Twestival Tickets:
NYC Twestival [Amiando]
Related:
Twestival Global 2010 Raises Funds for Social Good Tomorrow [Mashable]
New York City Twestival 2010 [NYCTwestival]
NYC Twestival [Twitter]
NYC Twestival Event Page [Facebook]
Twestival Global 2010 [Twestival]
Kim Kardashian, 7th Most Popular on Twitter in the World [Twitterholic]
Update: Rachel Sklar is the Editor-at-Large for Mediaite and is also part of the @nycTwestival organizing team. You probably figured that out but still, disclosure.
Have a tip we should know? [email protected]