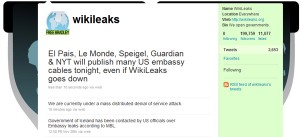 Pretty much everybody has something to say about WikiLeaks. And for those who like to say those things using only 140 characters, it's been a bit of a mystery as to why #wikileaks hasn't become a trending topic. But thanks to swirling rumors on the Internet, that mystery turned into a full-fledged conspiracy theory. This prompted Twitter to use its blog to explain why #wikileaks isn't trending, despite being one of Twitter's most-discussed topics.
The post—which uses up a relatively massive 1,974 characters, headline excluded—claims that Twitter has "absolutely not" blocked #wikileaks, #cablegate, or any other Julain Assange-tinged topic from becoming a certified Trend. We're then given a clearer definition of what even constitutes a Trend:
Twitter Trends are automatically generated by an algorithm that attempts to identify topics that are being talked about more right now than they were previously. The Trends list is designed to help people discover the 'most breaking' breaking news from across the world, in real-time. The Trends list captures the hottest emerging topics, not just what's most popular. Put another way, Twitter favors novelty over popularity (as BuzzFeed noted in a great article & infographic earlier this week).
So basically, #wikileaks has been widely discussed for too long to suddenly become a proper Trend, or, in Twitter's words, "the velocity of conversation isn't increasing quickly enough, relative to the baseline level of conversation happening on an average day."
Yet some aren't convinced. Mashable whipped out a chart that shows how the topic has "spiked significantly" since Thanksgiving. CNET, on the other hand, is a little more trusting of Twitter, and thinks that maybe the platform simply isn't "the domain of media and politics junkies that it was a few years ago."
Who's right? Who's wrong? Who knows?
Have a tip we should know? tips@mediaite.com