Twitter Goes Absolutely Nuts Over John Bolton Becoming National Security Adviser: 'We're F*cked'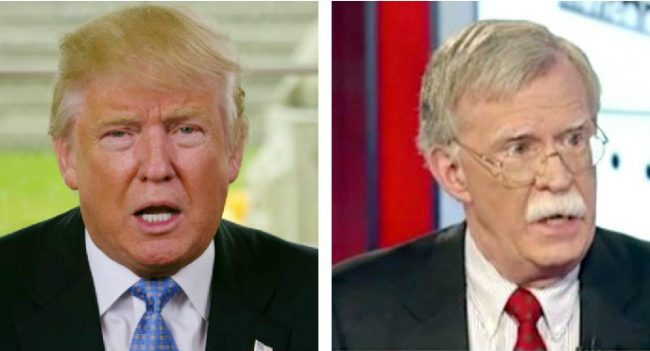 Another day, another major shake-up in the Trump administration.
Days after he fired Secretary of State Rex Tillerson, President Donald Trump announced that he was replacing National Security Adviser H.R. McMaster with former UN Ambassador and current Fox News on-air personality John Bolton.
And considering Bolton's extremely hawkish stances on foreign policy and history of making warmongering remarks, his hiring was met with, should we just say, a bit of trepidation.
Here's a sampling of what we saw on Twitter immediately:
I'm not gonna sugarcoat this: we're fucked. https://t.co/dSTFsxmdYw

— Daniel W. Drezner (@dandrezner) March 22, 2018
Full-on DC foreign policy establishment freak out coming soonest. https://t.co/5sALKHKlyd

— Josh Rogin (@joshrogin) March 22, 2018
well we're going to some stupid war somewhere this year https://t.co/I71wZmrECu

— Kilgore Trout (@KT_So_It_Goes) March 22, 2018
holy shit https://t.co/BXO6ZrwvgX

— Brandt (@UrbanAchievr) March 22, 2018
Trump ran hard against foreign interventions – but he ultimately supported Iraq at the time & strongly pushed for the Libya intervention, overthrow of Mubarak, etc. Bolton will push those instincts.

The important thing to remember is Trump is not actually non-interventionist.

— andrew kaczynski? (@KFILE) March 22, 2018
The TV to Trump pipeline in action again: a longtime Fox contributor become national security adviser https://t.co/styMKzpdaR

— Brian Stelter (@brianstelter) March 22, 2018
One wise source just messaged that this is the final scene of The Godfather 1

— Maggie Haberman (@maggieNYT) March 22, 2018
The hawks rejoice https://t.co/oWNEByCBh7

— Robert Costa (@costareports) March 22, 2018
And this is why you don't hire a psychotic warmonger as a TV pundit while an unstable, nuke-loving president is in the White House, you cable news assholes https://t.co/lhIjkQb3JH

— Sarah Kendzior (@sarahkendzior) March 22, 2018
This post has not aged very well https://t.co/WDnPDu0zl9 pic.twitter.com/9E1Huhc5bp

— Ben Dreyfuss (@bendreyfuss) March 22, 2018
[image via screengrab]
—
Follow Justin Baragona on Twitter: @justinbaragona
Have a tip we should know? tips@mediaite.com