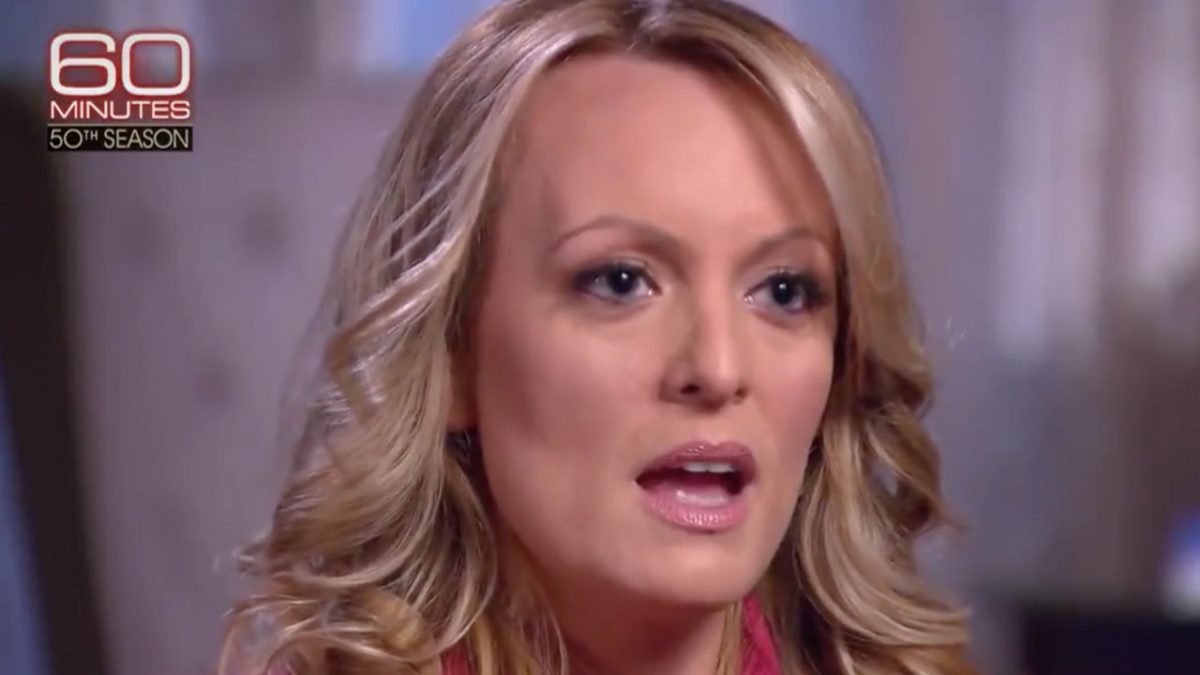 A lot of people tuned in to watch Stormy Daniels' much-hyped 60 Minutes interview tonight.
Leading up to the main event, #StormyDanielsDay and #60Minutes were both top trending topics on Twitter.
During the interview, Daniels dished on everything from, um, sex with Trump to spanking him with a magazine cover to him comparing her beauty to his daughter's to the multiple threats she received.
And you better believe people live-tweeted the hell out of this one:
Hell hath no fury like a woman named Stormy scorned

— Michael Tackett (@tackettdc) March 25, 2018
Spankies.

— Rick Wilson (@TheRickWilson) March 25, 2018
Stormy Daniels just made the case for herself being White House chief of staff with the spanking story. My god. #StormyDanielsDay

— Evan Siegfried (@evansiegfried) March 25, 2018
My ears! My ears! #spankingpotus

— Jonathan Capehart (@CapehartJ) March 25, 2018
I mean hasn't gotten spanked by a magazine with their face on the cover? ?

??

— Bakari Sellers (@Bakari_Sellers) March 25, 2018
Anderson Cooper is desperately trying not to giggle #60minutes

— Roland Scahill (@rolandscahill) March 25, 2018
— Pat Ward (@WardDPatrick) March 25, 2018
Never gonna watch Shark Week the same way again.

— mike freeman (@mikefreemanNFL) March 25, 2018
A porn star just said on 60 minutes that she took a magazine with Donald Trump's face on it and spanked the president, with him only wearing his underwear.

— Josh Dawsey (@jdawsey1) March 25, 2018
Clifford goes out of her way to say she'd recognize the man who threatened her in 2011—you'd think Vegas police might show her some photos of Trump security personnel in Vegas. Or ask Keith Schiller under about whether he made any calls to Vegas.

— Bill Kristol (@BillKristol) March 25, 2018
How did Cialias not buy the first ad coming out of the Stormy interview? Fail.

— Joshua Green (@JoshuaGreen) March 25, 2018
every few days the president and I sit down at the same time and watch television to hear women describe their affairs with him, this is how we bond

— 243 days ago Trump promised 24-hr Hezbollah answer (@MattNegrin) March 25, 2018
The look my wife and I shared during that moment will go down in history. https://t.co/fR45zkilPc

— Ben White (@morningmoneyben) March 25, 2018
Hard to believe the biggest issue evangelical voters will have with 60 Minutes tonight will be the gay reporter.

— Late Night with Seth Meyers (@LateNightSeth) March 25, 2018
"You remind me of my daughter."

— Ann Coulter (@AnnCoulter) March 25, 2018
Struck by how little effort Trump seems to have made to cover up alleged relationships with @StormyDaniels or Karen McDougal at time (2006-07). Alleged cover up of both came during 2016 campaign.

— Paul Farhi (@farhip) March 25, 2018
60 Minutes making this a campaign finance story — exactly why the whole country is watching right now.

— Karen Tumulty (@ktumulty) March 25, 2018
Everyone single woman in my gym locker room is gathered around the TV watching 60 Minutes.

— Bari Weiss (@bariweiss) March 25, 2018
Standout part of this interview is Stormy Daniels saying she wasn't attracted to Trump. He was incredibly proud of the "Best Sex I Ever Had" NY Post front page. That won't sit well.

— Maggie Haberman (@maggieNYT) March 25, 2018
This is the news cycle America deserves, but not the one it needs right now.

— Josh Barro (@jbarro) March 25, 2018
over/under on mentions of this on "Fox and Friends" tomorrow: 0.5

— Tim Alberta (@TimAlberta) March 26, 2018
The real question: Did the first lady just watch @60Minutes?

— Dan Linden (@DanLinden) March 26, 2018
I really didn't want to imagine the president "perched" on a bed waiting for sex. This interview has so many details that the president will hate.

— Yamiche Alcindor (@Yamiche) March 26, 2018
The brilliance of Stormy Daniels: Always leave them wanting for more.

— Jack Shafer (@jackshafer) March 26, 2018
Once more with feeling: A shout out to the @WSJ folks behind this first story, which gave way to all of the reporting that followed https://t.co/qwd1lFEkbb

— Mark Berman (@markberman) March 26, 2018
[image via screengrab]
— —
Follow Josh Feldman on Twitter: @feldmaniac
Have a tip we should know? tips@mediaite.com
Josh Feldman - Senior Editor