Twitter Has a Field Day with President Trump Addressing the Boy Scouts of America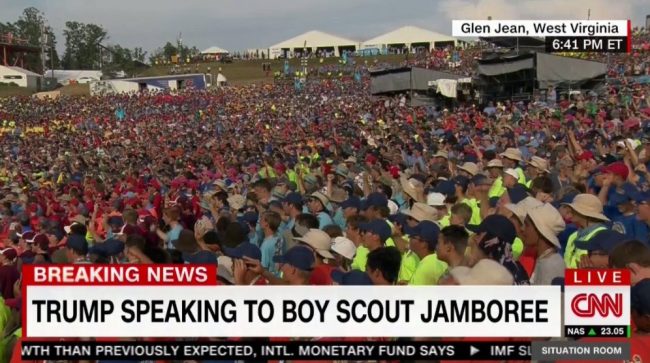 President Donald Trump spoke today at the Boy Scouts of America and gave a speech the likes of which has probably never been seen at previous Jamborees. Given that the vast majority of those in attendance were Boy Scouts between the ages of 12 and 18, some found it odd that Trump trotted out his old rhetorical chestnuts like railing on "Fake News," retelling his general election victory and outlining the failings of his former opponent Hillary Clinton.
Perhaps not predictably, Twitter had something of a field day pointing out the seeming absurdity with Trump's speech and below are some tweets that caught our eye.
Some simply celebrated the pageantry:
Thousands of boy scouts awaiting arrival of Pres Trump at their National Jamboree in WV. pic.twitter.com/mauQnBdlq3

— Mark Knoller (@markknoller) July 24, 2017
Trump tells the Boy Scouts he's going to kill Obamacare; Boy Scouts respond with chants of "U-S-A! U-S-A!" pic.twitter.com/DQpFXJpGGF

— Dan Zak (@MrDanZak) July 24, 2017
Others noted the historic significance for Trump to attend:
US Presidents who were Boy Scouts: JFK, Ford, Clinton, GWBush and Obama. WH confirms that Pres Trump was not.

— Mark Knoller (@markknoller) July 24, 2017
Donald Trump is speaking to the Boy Scouts. Has a President ever been in deeper contradiction with Scout values? pic.twitter.com/UYfdi39nH9

— Josh Greenman (@joshgreenman) July 24, 2017
While others mocked the politicization of Trump's speech:
"You're Boy Scouts but you know life. You know life," Trump says in a long story about a rich homebuilder w/a yacht. What does that mean?

— Josh Dawsey (@jdawsey1) July 24, 2017
The Boy Scouts of America are now booing Hillary Clinton as President Trump recounts his Michigan strategy and the election results.

— Jenna Johnson (@wpjenna) July 24, 2017
President Trump is now addressing thousands of kids at the Boy Scouts Jamboree about the "fake media" and "fake news"

— Bradd Jaffy (@BraddJaffy) July 24, 2017
Trump is currently relitigating the 2016 election — talking Michigan, Wisconsin — before a crowd of Boy Scouts

— Jeremy Diamond (@JDiamond1) July 24, 2017
Trump is currently bragging to teenage Boy Scouts about his election victory despite his "tremendous disadvantage in the electoral college"

— Jim Sciutto (@jimsciutto) July 24, 2017
If there's anyone left who needs further proof that Trump has no low bar, check the Boy Scouts Jamboree. #BoyScoutJamboree #NoLowTrump

— Nola Darling (@AGalvezStJoint) July 25, 2017
The Boy Scouts/ Trump Youth invited to boo and jeer a former President to stroke the ego of this – this – I have no words. This. Is. Wrong. https://t.co/YifIrFKeHJ

— CDC (@CyndiCaldwell) July 24, 2017
And others marked the odd decision to invite him:
Today, 40,000 Boy Scouts cheered a man who bragged about sexually assaulting women.

So much for being "morally straight"

— Nunca Trump (@NeverTrumpTexan) July 24, 2017
Trump to address crowd of boy scouts. Presidential message, carry Tic Tacs and grab them by the p**sy. Then lie and get a merit badge.

— Egalitarian (@WeAllMatter7) July 24, 2017
Have a tip we should know? tips@mediaite.com