Twitter Helps Find Amazing Race Contestant's Passport, Saves Her From Elimination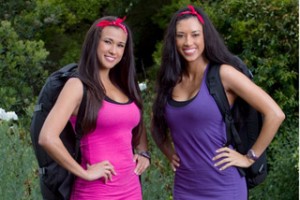 Had it not been for Twitter, The Amazing Race might have been over before it even began for Kaylani Paliotta and Lisa Tilley. The show had just kicked off its 19th season — which premiered last night on CBS — when Paliotta lost her passport before even getting out of the country. The show's producers were ready to eliminate the girls, who would not have been able to travel, until twitter helped reconnect them with their lost goods, just in time.
Lucky for them, Ryan Storms, the man who found the passport at a gas station where he had been stopped for directions by a different Race team, is an busy Twitterer.
"So #Thelife gets crazier," he tweeted immediately. "So after being randomly filmed for 'The Amazing Race,' I see that one of them dropped there [sic] passport!!!" This caught the attention of an avid Race fan who had already begun tracking the show on Twitter, and they replied, instructing Storms to get to LAX ASAP if he wanted to save the girls chances.
"Her dream was going to die right now if I didn't get her this passport," he said, and so he rushed to the airport.
Meanwhile, producers in Taiwan also caught the tweet and told the team in Los Angeles — who had rushed to the airport after being tipped by the camera crew that the girls might be facing some immigration troubles — to wait on the elimination ceremony.
Close call!
Watch the excited return below:

H/T MediaDecoder
Have a tip we should know? tips@mediaite.com