Twitter Marvels at Launch of Elon Musk's Massive SpaceX Rocket: 'Freaking Amazing'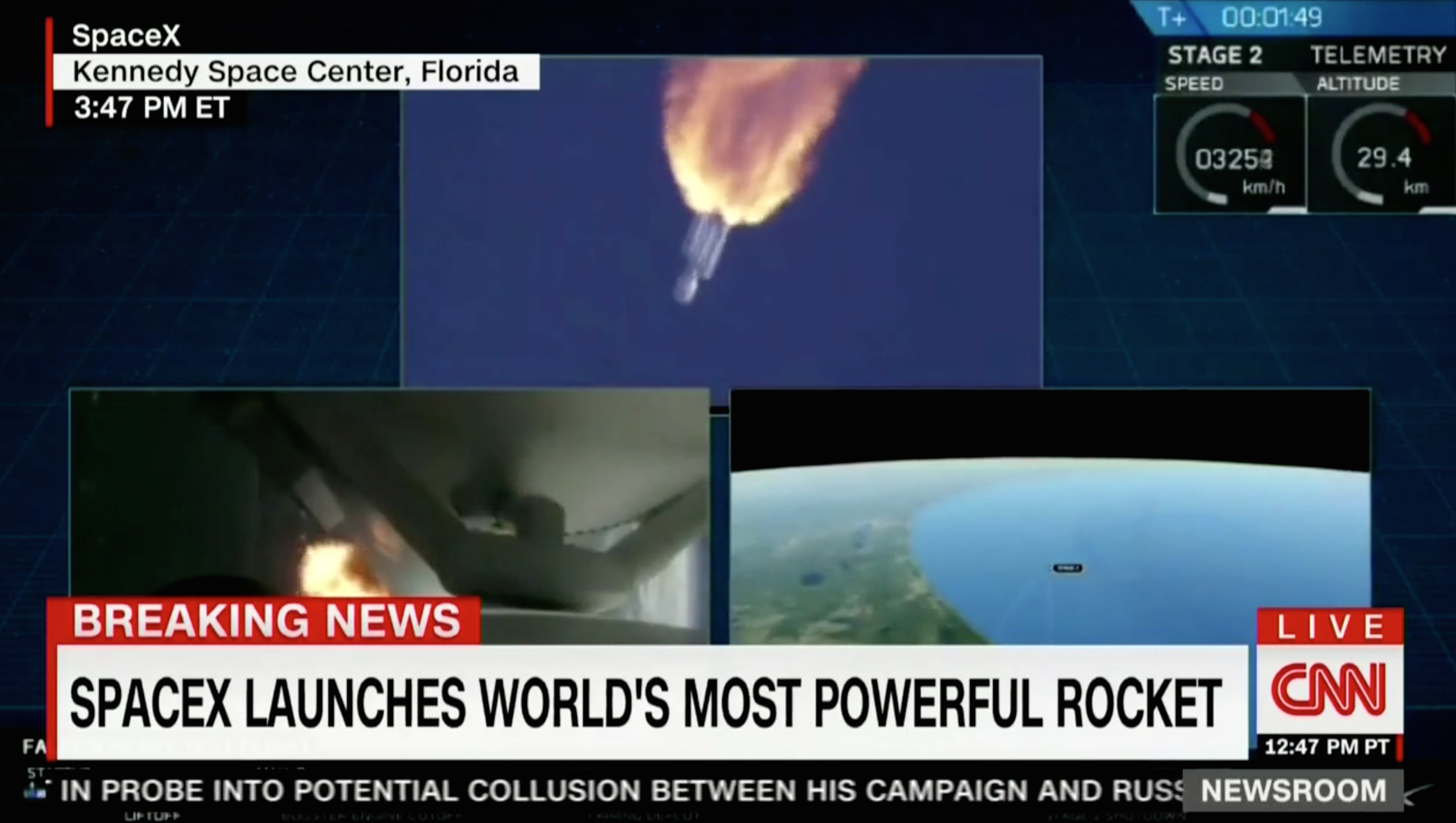 That crazy bastard did it. Elon Musk and his company SpaceX have successfully launched the world's most powerful rocket into space, the appropriately named Falcon Heavy.
What's the big deal? See above. It's the most powerful rocket in the world. Just look at this thing. It's ginormous! The Falcon Heavy can lift 140,000 pounds of cargo into low earth orbit, which could prove very useful in building those all-crucial stepping stones for Musk's ultimate goal: getting us to Mars.
You see, the kind of spacecraft that would ferry people across the solar system could not, realistically, be built on Earth. Something like the Falcon Heavy would have to be used to jettison building materials into space, in addition to space probes, satellites and all kinds of other cool interstellar knick knacks.
As a matter of fact, Musk, the cheeky rascal that he is, sent one of his automobiles, a Tesla Roadster, into space as cargo, as a way to prove the load-carrying capabilities of the Falcon Heavy and as a little bit of self referential cross-promotion.
Folks on Twitter have been absolutely losing their crap over this stunning display of orbital brinkmanship, and why shouldn't they? When was the last time we did anything cool with space? Here are some of our favorite tweets.
My view of the #FalconHeavy from the Kennedy Space Center News Center and press viewing area 3.8 miles from the launch pad. Amazing site to see! Congrats @SpaceX @elonmusk pic.twitter.com/K1hMN0SKM9

— Luis Santana (@LuisSantana) February 6, 2018
Teslas in SPACE. ??? @Tesla @SpaceX#TeslaRoadster #SpaceX #FalconHeavy #FalconHeavyLaunch #Tesla2Mars pic.twitter.com/LiaVXffzvd

— Tanya Harrison (@tanyaofmars) February 6, 2018
Congratulations @spacex & @elonmusk – wonderful seeing commercial space companies pushing boundaries https://t.co/cv0jZNmXFq

— Richard Branson (@richardbranson) February 6, 2018
Have said it before, but it bears repeating. SpaceX and Elon Musk get more love than anyone else in aerospace because they dare to do crazy shit like launching Teslas into deep space and trying to land three rocket cores.

— Eric Berger (@SciGuySpace) February 6, 2018
Thank you Elon Musk for reminding us that while everything is basically terrible right now, science is still great. And bravo for including David Bowie's A Space Oddity on the SpaceX ride. That launch was freaking amazing. Yay!

— Joy Reid (@JoyAnnReid) February 6, 2018
I fully expect Elon musk to step to the podium of a press conference one year from now with functioning iron Man armor

— Brett Molina (@brettmolina23) February 6, 2018
Well, what other car manufacturer can say, I made a gigantic self landing rocket to shoot my car to Mars? That pretty much is GG, lol. #FalconHeavy #SpaceX

— Docm77 (@docm77) February 6, 2018
Way to stick the tandem booster landing! Congratulations @SpaceX on today's successful launch! pic.twitter.com/L73VrChnmk

— NRO (@NatReconOfc) February 6, 2018
I take back like 98% of the mean things I've said about Elon Musk pic.twitter.com/Xpg4SLwLLB

— Lachlan Markay (@lachlan) February 6, 2018
These photos have been a big hit. So here's another, this one of the moment right at liftoff. #FalconHeavy #SpaceX pic.twitter.com/f31tq6OPc9

— Sawyer R. (@thenasaman) February 6, 2018
Guys, Elon Musk seriously just shot a sportscar with a spaceman sitting in the driver's seat and "Don't Panic" lit up on the panel…AT FUCKING MARS. Musk is every bit a Phillip K. Dick character as Trump is.

— C. Robert Cargill (@Massawyrm) February 6, 2018
F***** a Bubba. pic.twitter.com/yWm1RKaPCS

— Jon Ostrower (@jonostrower) February 6, 2018
View from SpaceX Launch Control. Apparently, there is a car in orbit around Earth. pic.twitter.com/QljN2VnL1O

— Elon Musk (@elonmusk) February 6, 2018
As of this writing, President Donald Trump has yet to take credit for this giant leap in private sector space deployment.
[image via screenshot]
—
Follow Lawrence Bonk (@sidescrollers) on Twitter
Have a tip we should know? [email protected]