Schumer and Pelosi's Awkward Trump Response Gets Roasted: 'When Mom and Dad Are Disappointed'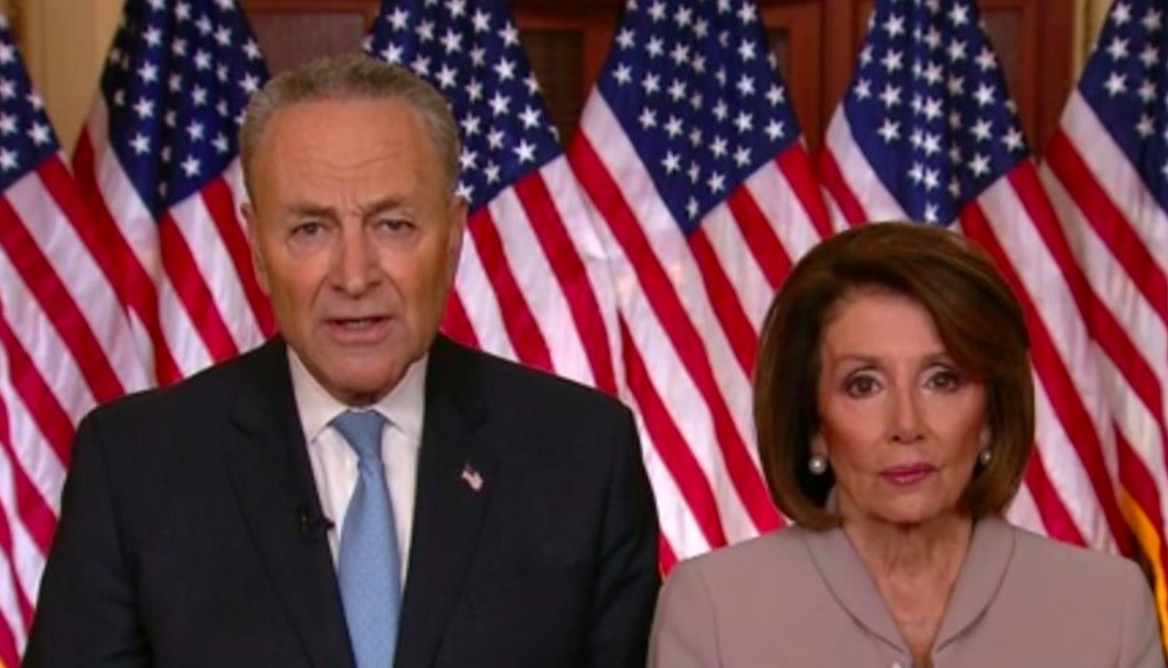 Senate Minority Leader Chuck Schumer (D-NY) and House Speaker Nancy Pelosi's (D-CA) gave a joint response condemning President Donald Trump's border policies after his wall address tonight, but their points may have have gone unnoticed, as everyone on Twitter apparently just noticed the statement's awkward frame and backdrop.
"We can re-open the government and continue to work through disagreements about policy," Schumer said during the Democratic leaders' response to the president's Oval Office presentation. "We can secure our border without an expensive, ineffective wall. And, we can welcome legal immigrants and refugees without compromising safety and security. The symbol of America should be the Statue of Liberty, not a thirty-foot wall."
Pelosi also stated that "women and children at the border are not a security threat, they are a humanitarian challenge," compelling the president to "stop holding the American people hostage, must stop manufacturing a crisis, and must re-open the government."
While responses given by the top Democrats were predictable talking points, the real show was found on Twitter, where dozens of memes comparing the awkward shot of the two to angry parents telling off their disobedient child.
Check out a few of the best tweets below:
I'm keep seeing George and Lucille Bluth. https://t.co/AcTa9pMIcU

— Scott Lincicome (@scottlincicome) January 9, 2019
When mom and dad are disappointed in you. pic.twitter.com/RYm2uvRZpE

— Gabby Orr (@gabriellahope_) January 9, 2019
sorry pic.twitter.com/qo6utE0PIS

— Idea God: The Mind General (@ByYourLogic) January 9, 2019
Hell of a visual. pic.twitter.com/usdDA1wNxC

— Erick Erickson (@EWErickson) January 9, 2019
we're not mad, we're just disappointed

your father and i are going to take turns talking to you now pic.twitter.com/vpeHCZh6Ou

— Adam Weinstein (@AdamWeinstein) January 9, 2019
This was an awful presentation. Awful. https://t.co/HAxGySQ0Vl

— Tara Setmayer (@TaraSetmayer) January 9, 2019
American Gothic (2019) pic.twitter.com/kfzdF663yS

— chelsea adelaine hassler (@chelseaadelaine) January 9, 2019
Either they're about to tell their children they're *very* disappointed in them, or they're distancing themselves from crazy Aunt Zelda who always invites herself over the house https://t.co/ei0Cbbjm3a

— Andrew Podob (@ponderingpodob) January 9, 2019
Not SNL. https://t.co/Eocz3h99KZ

— Chris Pack (@ChrisPack716) January 9, 2019
They look like rich parents being told their loutish son just got kicked out of college again pic.twitter.com/49ZUXSHbyn

— Allahpundit (@allahpundit) January 9, 2019
"Your mother and I want to talk about your flag addiction. It's out of control." pic.twitter.com/z8eJdfitkG

— ryan teague beckwith (@ryanbeckwith) January 9, 2019
It's appropriate to call journalists to account for focusing on "optics" rather than substance. But considering how substance-free tonight was–from Trump and from Schumer and Pelosi–perhaps we can be forgiven for noting that the two Democratic leaders appeared to be embalmed.

— Jeff Greenfield (@greenfield64) January 9, 2019
when your parents find your juul pic.twitter.com/V30gILLQQl

— John Kroencke (@johnkroencke) January 9, 2019
[image via screengrab]
Have a tip we should know? tips@mediaite.com