Twitter Reacts to Trump, Biden Challenging Each Other to a Fight: '2020 Is Going to be Lit'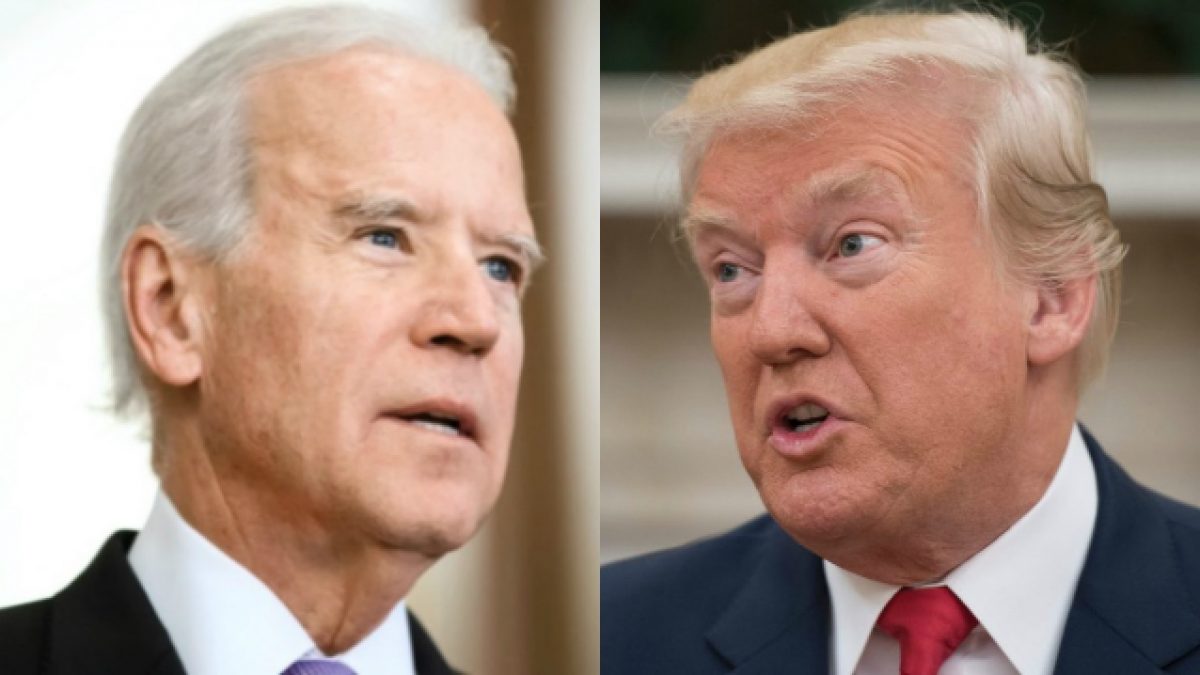 The Twitterverse is collectively shaking its head about the very notion that President Donald Trump and Joe Biden are about to throw down.
A couple days ago, the former vice president gave a speech in Miami where he brought back a blast from the past and said he would "beat the hell out" of Trump if he heard him disrespect women in his younger days. Today, Trump responded by getting on Twitter, calling Biden "mentally and physically" weak, and saying he'd "go down fast and hard, crying all the way."
Of course, the Internet is watching all of this, so everyone is grabbing their popcorn, placing their bets…or just wondering when we all died and went to hell.
2020 preview …. https://t.co/xcUkx6M8SN

— Jake Sherman (@JakeSherman) March 22, 2018
A preview of the Trump/Biden fight. pic.twitter.com/7TGqpJez69

— Jay Caruso (@JayCaruso) March 22, 2018
cage match. make it happen https://t.co/PrX4mqtD3E

— jeremy scahill (@jeremyscahill) March 22, 2018
Joe threatens you? You threaten the women you sleep with.

— Jeff Jarvis (@jeffjarvis) March 22, 2018
The President of the United States, at 6:19 am. https://t.co/FsCf3SDWxQ

— Greg Sargent (@ThePlumLineGS) March 22, 2018
2020 is going to be lit

— Katie Watson (@kathrynw5) March 22, 2018
Can we all agree we don't want to see two overweight men in their 70s throwing down? https://t.co/9syub93JuJ

— ian bremmer (@ianbremmer) March 22, 2018
This is what Lincoln meant by "Better Angels." https://t.co/M8VbphUrGp

— John Berman (@JohnBerman) March 22, 2018
Joe Biden is 75 years old. Donald Trump is 71. They aren't going to fight each other. This is stupid.

— Blake Hounshell (@blakehounshell) March 22, 2018
Having said this, I would watch the hell out of a video of a Trump-Biden fight made by those crazy Taiwanese animator guys. https://t.co/AgM7fvQGpa

— Blake Hounshell (@blakehounshell) March 22, 2018
I would totally pay-per-view this https://t.co/UA7ZemnOTc

— Marc Caputo (@MarcACaputo) March 22, 2018
I, too, wake up at 6 in the morning and think about fighting Joe Biden https://t.co/sBxCSWejQV

— Ryan Broderick (@broderick) March 22, 2018
Obviously they should fight for real but, in addition, I propose they wear bikinis for it. https://t.co/FnRpeC9evK

— Drew Magary (@drewmagary) March 22, 2018
look, im just saying. wrestlemania is fast approaching. https://t.co/FFGEewT0yB

— Sopan Deb (@SopanDeb) March 22, 2018
Burr-Hamilton, but on Twitter. https://t.co/Dt6iOHgoxD

— Philip Bump (@pbump) March 22, 2018
[Image via screengrab]
— —
>> Follow Ken Meyer (@KenMeyer91) on Twitter
Have a tip we should know? tips@mediaite.com