Twitter Reveals The Realities Of Increased Airport Security After Friday's Attack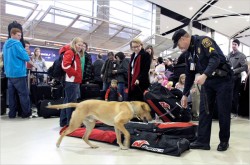 Despite the billions spent since 2001 on intelligence and counterterrorism programs, sophisticated airport scanners and elaborate watch lists, it was something simpler that averted disaster on a Christmas Day flight to Detroit: alert and courageous passengers and crew members. — New York Times, Dec 26, 2009.
Now that the first shock of yesterday's attempted bombing on Northwest Flight 253 has passed the real fallout is starting to take effect, mainly for regular travelers (like the ones who "averted disaster" yesterday) attempting travel across the country today. The Times and elsewhere are reporting on new travel restrictions, which were put in place almost immediately after yesterday's incident was reported and it ain't pretty:
Although transportation officials had not announced new security measures yet, Air Canada said the Transportation Security Agency would make significant changes to the way passengers are able to move about on aircraft. During the final hour of flight, customers will have to remain seated, will not be allowed access to carry-on baggage and cannot have personal belongings or other items on their laps, according to a notice on Air Canada's Web site.

In effect, that means passengers on flights of about 90 minutes or less will not be able to get out of their seats, since they are not allowed to move about while an airplane is climbing to its cruising altitude.
In the words of Gawker's Ryan Tate: "Airline passengers repeatedly do what TSA can't — intercept terrorists — so let's treat them even worse. Shameful."
NPR reported earlier today that passengers appeared to be "taking it in stride and are very calm about it" but if you want a real sense of what it's like to be in the air today (or waiting to be in the air today), beyond the cut and dry version the news outlets are offereing, then you need look no farther than Twitter. We put together a collection from across the Twittersphere to give you a sense of how these new restrictions are (or aren't, as the case may be) affecting traveler's ability to get where they're going this holiday season.
Blogger Xeni Jardin perhaps (alas for her) provided the best report on the realities of international travel today.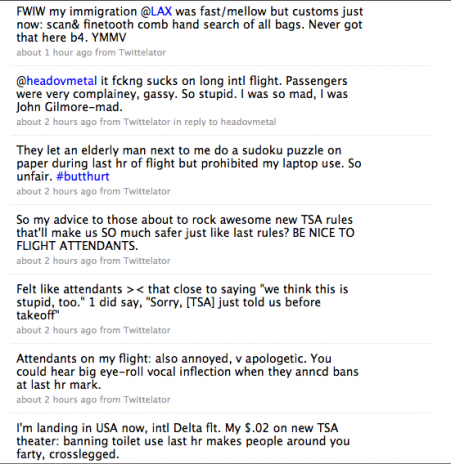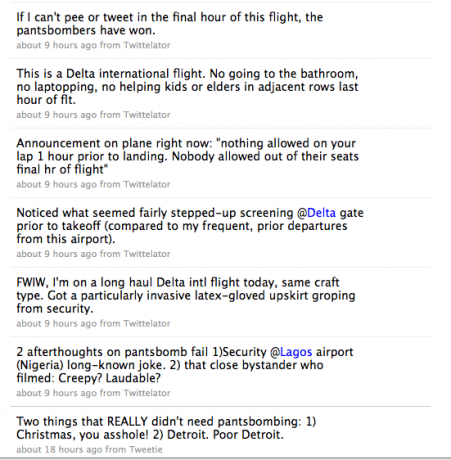 Our own Rachel Sklar, who was flying domestic, noted there were less security measures than one might have presumed: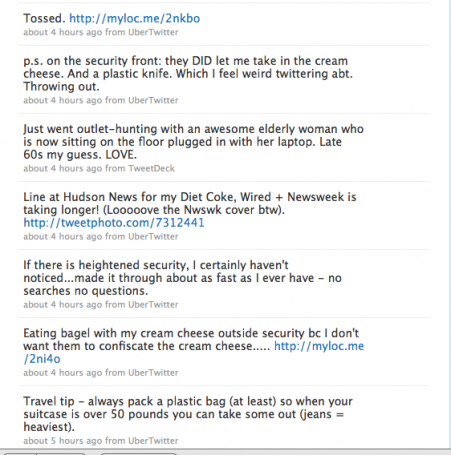 Business Insider's John Carney, meanwhile, was apparently just hoping to find a way to the snowed-in MidWest: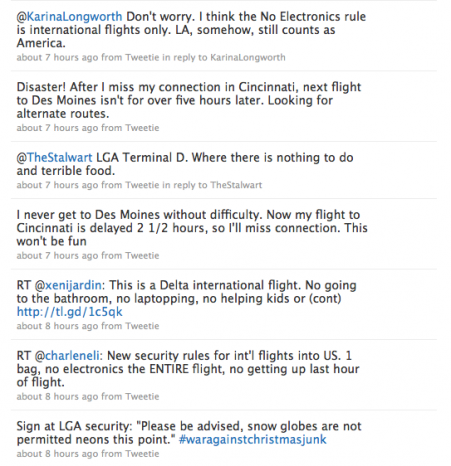 And they were far from being the only ones.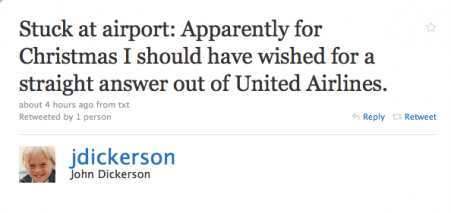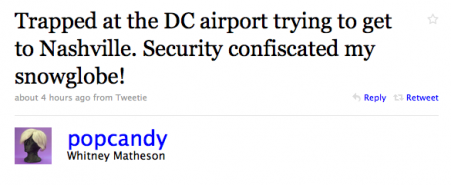 See anything you think we should add? Drop us a line at tips@mediaite.com. And safe travels!
Have a tip we should know? tips@mediaite.com