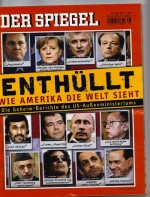 Gawker is reporting that Twitter users have obtained and spread details of WikiLeaks' latest leak online before its scheduled release later today — and the details are at times juicy, but contain "no earth-shattering revelations."
Twitter has out-leaked the leakers. About 12 hours before Wikileaks latest enormous leak was scheduled to be released, a Twitter user bought a copy of a German news magazine outlining the leak after it was placed on newstands too early.

According to tweets from German-speaking Twitter users who snagged an embargoed copy of this week's Der Spiegel (cover above), the cache of over 250,000 confidential diplomatic cables may be a bit of a let-down. At least from the German point of view there are no earth-shattering revelations, just a lot of candid talk about world leaders. Angela Merkel is praised as "teflon," though she "avoids risk and is rarely creative," and German foreign minister Guido Westerwelle is repeatedly bashed. There is talk of Italian Prime Minister Silvio Berlusconi's "wild parties," (duh) and Iranian president Mahmoud Ahmadinejad is likened to Hitler. French President Nicolas Sarkozy is called an "emperor with no clothes." The cables also show Obama has "no emotional relationship with Europe," focusing instead on Asian countries, according to Der Spiegel.

The full tranche of cables is apparently scheduled to be released by Wikileaks this afternoon at around 4:30 pm EST in concert with The New York Times, the Guardian and Der Spiegel. But this morning, a sharp-eyed Twitter user spotted a copy of Der Spiegel at a a rest area on the Germany-Switzerland border. "Der Spiegel too early in the Badische Bahnhof Basel!" wrote Freelancer_09. "We'll see what it says…… :)" He and another user, sa7yr, have been tweeting excerpts for a few hours now.
Shortly after the leak, however, WikiLeaks tweeted that their website appears to be under attack and has crashed — just a few hours before the new leak was scheduled to go public. Although they appear to be scrambling to get the site back in order, they seem relatively unfazed, since the cables will still be published in major media outlets later this afternoon.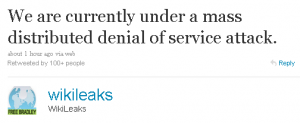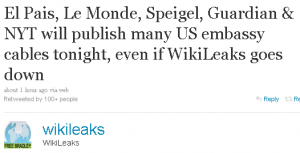 Have a tip we should know? tips@mediaite.com