Twitter Slams Mario Batali For Including Cinnamon Roll Recipe in His Apology Letter to Fans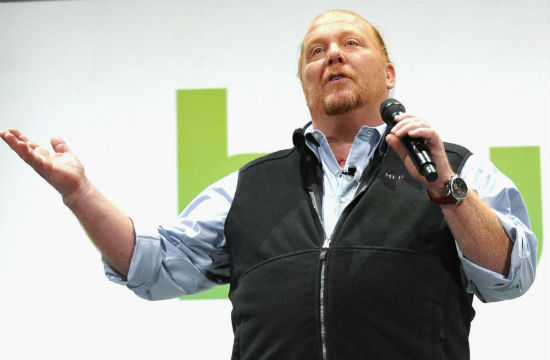 Mario Batali withdrew from his businesses earlier this week after it was reported that several women had come forward with sexual harassment allegations against him.
The celebrity chef apologized for his behavior in his latest newsletter, but with a twist.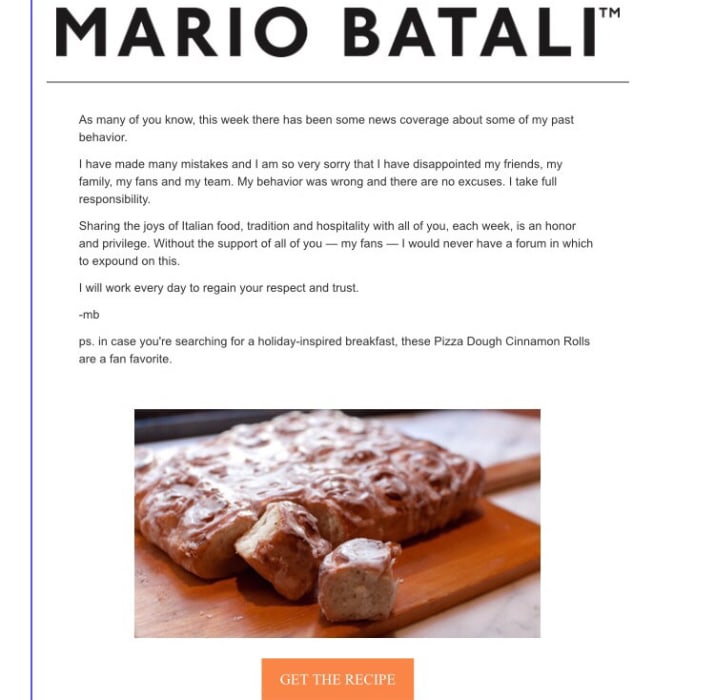 "As many of you know, this week there has been some news coverage about some of my past behavior," Batali began. "I have made many mistakes and I am so very sorry that I have disappointed my friends, my family, my fans and my team. My behavior was wrong and there are no excess. I take full responsibility."
He promised to "work every day to regain your trust and respect."
But he wasn't exactly finished…
"p.s. in case you're searching for a holiday-inspired breakfast, these Pizza Dough Cinnamon Rolls are a fan favor."
Um… what?!?
Twitter feasted on this newsletter.
Hi guys, it's 2017 and Mario Batali just apologized for sexual harassment AND gave a recipe for Pizza Dough Cinnamon Rolls all in one email. pic.twitter.com/88VuVB8a4H

— Jules (@jules_su) December 16, 2017
when you're apologizing for sexual assault and suddenly need a snack pic.twitter.com/IoNr2vCaIf

— shauna (@goldengateblond) December 16, 2017
What a disappointment, in every possible way pic.twitter.com/GiKChA29WV

— Helen Rosner (@hels) December 16, 2017
Well, sorry about the harassment, try this recipe for pizza dough cinnamon rolls! Is an interesting message. pic.twitter.com/x46ZdnUEUX

— Lisa Tozzi (@lisatozzi) December 15, 2017
i cannot get over mario batali apologizing for harassing women and simultaneously offering a fucking cinnamon roll recipe pic.twitter.com/Yt3sv76qe9

— Polly Mosendz (@polly) December 16, 2017
Mario Batali is trash for promoting delish ass cinnamon rolls while apologizing for being a damn creep. pic.twitter.com/ZM2SnHch14

— Gerrick D. Kennedy (@GerrickKennedy) December 16, 2017
MARIO BATALI: How do we address the sexual harassment?
PR TEAM: With a heartfelt apology.
MB: A cinnamon roll recipe should do the trick.
PR: That's a horrible idea.
MB: Yeah, let's go with that.
PR: You need to apologize.
MB: OK. Quick apology and then rolls.
PR: We're doomed. pic.twitter.com/dy7aIHUyDV

— Josh Jordan (@NumbersMuncher) December 16, 2017
Nothing says, "I'm sorry" for being a sexual predator like a recipe for Pizza Dough Cinnamon Rolls. Great work, @Mariobatali. pic.twitter.com/yHAnMEsGmV

— ForAmerica (@ForAmerica) December 16, 2017
Sadly, this is not a joke. Inappropriate AND tone deaf, @Mariobatali. https://t.co/YufJ6fwWkz

— Laurie Dhue (@RealLaurieDhue) December 16, 2017
Russell Simmons should do this. "Sorry about the rape, here's an unreleased track from the 'Licensed to Ill' sessions" https://t.co/Ll2xoZSCOR

— Allahpundit (@allahpundit) December 15, 2017
[images via screengrab]
Have a tip we should know? tips@mediaite.com