Two Cincinnati IRS Employees Claim Washington Directed Conservative Targeting, According To Report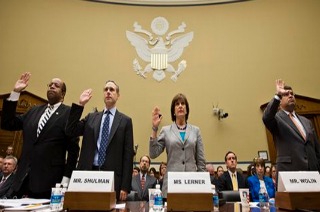 Two Internal Revenue Service employees in the Cincinnati office testified before congressional investigators that IRS officials in Washington D.C. directed the effort to target conservative groups with undue scrutiny. Transcripts of the interviews were obtained by the Wall Street Journal. The WSJ report contradicts claims by Obama administration officials who said that the targeting was performed by mid-level employees in the Ohio office without direction from Washington.

RELATED: CNN Exclusive: Two 'Rogue' IRS Employees Blamed For Tea Party Targeting Scandal
"Elizabeth Hofacre said her office in Cincinnati sought help from IRS officials in the Washington unit that oversees tax-exempt organizations after she started getting the tea-party cases in April 2010," WSJ reports. "Ms. Hofacre said Carter Hull, an IRS lawyer in Washington, closely oversaw her work and suggested some of the questions asked applicants."
"I was essentially a front person, because I had no autonomy or no authority to act on [applications] without Carter Hull's influence or input," Hofacre told congressional investigators.
Another IRS employee, Gary Muthert, told investigators that he was instructed by an unnamed manager in March, 2010, that "Washington, D.C., wanted some cases," of Tea Party groups seeking tax-exempt status.
"I was furious," Ms. Hofacre told interviewers. "It looked like Lois Lerner was putting it on us."
After the scandal surrounding the targeting of conservative groups broke, administration officials claimed that two "rogue" employees at the IRS's Cincinnati office were behind the overzealous scrutinizing of Tea Party political organizations. A CNN report in May described the employees implicated in the targeting scandal as having gone "off the reservation."
Read the full report via the Wall Street Journal
> >Follow Noah Rothman (@NoahCRothman) on Twitter
Have a tip we should know? tips@mediaite.com