U.N. Official Blames 'American Global Domination Project' For Boston, U.S. Calls For His Resignation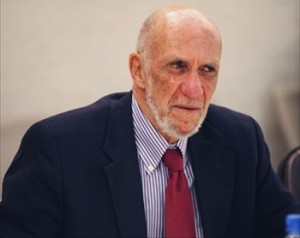 Add another one to the inappropriate reactions pile. Richard Falk, a Princeton professor emeritus and United Nations official working at the U.N. Human Rights Council, is under fire for an essay he penned pointing the finger at "the American global domination project" for the Boston Marathon bombings last week. Falk's comments have been harshly condemned, and U.S. ambassador Susan Rice made it clear yesterday she would like the U.N. to fire Falk posthaste.


Falk points to drone strikes, torture, and American militarism in foreign nations all as reasons why the United States should expect blowback in the form of terrorist attacks.
The American global domination project is bound to generate all kinds of resistance in the post-colonial world. In some respects the United States has been fortunate not to experience worse blowbacks, and these may yet happen, especially if there is no disposition to rethink US relations to others in the world, starting with the Middle East.
The essay was published in Foreign Policy Journal, and the reaction that followed was one of swift condemnation. A spokesman for U.N. secretary-general Ban Ki-moon said that he "immediately condemned the Boston marathon bombing and he strongly believes that nothing can justify such an attack."
The sentiment was echoed and doubled down on by Rice, who tweeted yesterday that Falk should be dismissed from the United Nations for his incendiary comments.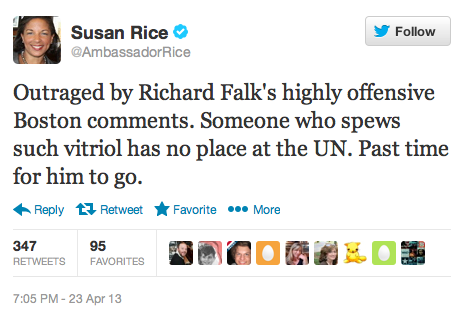 A spokeswoman for the U.S. mission to the U.N. explained that Falk's history of making "numerous outrageous statements" has led them to request his dismissal from the Human Rights Council.
h/t POLITICO
—–
Follow Josh Feldman on Twitter: @feldmaniac
Have a tip we should know? tips@mediaite.com
Josh Feldman - Senior Editor