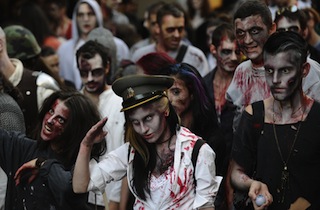 All right mortals, the zombie thing has officially gotten out of hand.
Foreign Policy got a look at an unclassified document called "CONOP 8888," which was just sitting around on a military computer.
What's CONOP 8888? It "fulfills fictional contingency planning guidance tasking for U.S. Strategic Command to develop a comprehensive [plan] to undertake military operations to preserve 'non-zombie' humans from the threats posed by a zombie horde. Because zombies pose a threat to all non-zombie human life, [Strategic Command] will be prepared to preserve the sanctity of human life and conduct operations in support of any human population — including traditional adversaries."
This is a joke, right? "This plan was not actually designed as a joke," a disclaimer read. Well then.
RELATED: Fox Columnist Says 'Zombie Obsession' Is 'Seriously Hurting American Society'
It may not be a joke, but the military told FP it's not exactly serious, either. Rather, it's a training exercise that used a fictional, rather than hypothetical, scenario as its premise, to prevent public panic in case the plan ever got out, which it clearly can.
"Planners…realized that training examples for plans must accommodate the political fallout that occurs if the general public mistakenly believes that a fictional training scenario is actually a real plan," the document reads. "Rather than risk such an outcome by teaching our augmentees using the fictional 'Tunisia' or 'Nigeria' scenarios used at [Joint Combined Warfighting School], we elected to use a completely-impossible scenario that could never be mistaken for a real plan."
This, of course, is all a distraction from the real national security threat: teenagers.
FP has a rather detailed breakdown of the plan, as well as a copy of the thing itself.
[Image via Nebojsa Markovic / Shutterstock.com]
——
>> Follow Evan McMurry (@evanmcmurry) on Twitter
Have a tip we should know? [email protected]