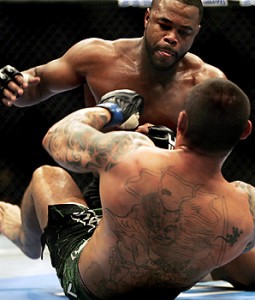 Big news for fans of Ultimate Fighting — tonight't epic showdown-throwdown kicked off the New Year, pitting former world champ 'Suga' Rashad Evans against Brazilian challenger Thiago Silva. The UFC website called it "a grudge match of epic proportions" — and if you didn't happen to be there live from the MGM Grand in Las Vegas, you could watch it on your computer via livestream through Justin TV and Sopcast. This is the future of event television.
So who won? Evans, in a unanimous decision by the judges. Well is is the former World Champ. But it was close: 29-28 across the board. The "grudge match" part was two fold, since Evans owed Silva for besting the former's teammate, Keith Jardine, and both having been defeated by light heavyweight champion Lyoto Machida. Evans hung on to his edge, despite an impressive third round rally from Silva. SI.com's Josh Gross has a detailed analysis of the match, which he called "one of the year's best" which is amusing since it's January 2nd (well, he said it would "be remembered as one of the year's best," but that doesn't change he calendar. How's this for playing it safe: "full-year's worth of fights may leave UFC 108 behind, but for now it seems destined to be at least mentioned among 2010's most fun." Again, it's JANUARY 2nd PEOPLE. I bet tomorrow's gonna be one of the best Sundays of 2010, at least until another Sunday happens that's also good.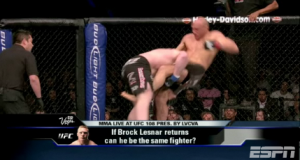 The trending "UFC" based topics on Twitter and Google Zeitgeist suggest that the event was well-noted in addition to being one of the best of the year &dmash; so many ways to make your appointment with that kind of television, and then so many ways to have that water-cooler conversation. It's just another reminder of how the web is bringing niche audiences to the fore with a vengeance — "UFC 108" already has its own (very detailed) Wikipedia page. Saturday night pay-per-view fights have always been about a certain kind of viewer, and obviously there are lots of them or the system wouldn't work. It used to be that those results would be confined to the sports section, or ESPN or neatly in their niches. Now, a strong and vocal and enthusiastic niche audience can push a topic out into the consciousness of the mainstream. We saw this, too, with Ronna & Beverly and Tim Tebow. The explosion of niche media means that events like this blow up in the mainstream, hot and bright, at least for quick bursts. Someone smart at UFC realized that, and showed the pay-per-view part on livestream, allowing all that free social PR to potentially breed new fans. It's an interesting interaction between the "pay" and "free" model. We'll be seeing more of that in the next year.
Here are the official weigh-in results, here's a liveblog of the event, there's the #UFC tag on Twitter. And here's the MMA post-fight extra (42 min!) below. p.s. Congratulations to Canadian Sam Stout for winning "Fight of the Night" (with Joe Lauzon):


UFC 108 results: Rashad Evans vs. Thiago Silva, Joe Lauzon vs. Sam Stout featured on UFC's first show of 2010 [ProWrestling.net]
UFC 108: Rashad Evans vs. Thiago Silva full fight video [Examiner] (lots of videos linked here)
Have a tip we should know? tips@mediaite.com