UK Leaders Face Off Over News Corp: They Need To "Sort Out The Mess They've Created"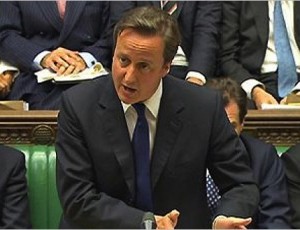 Every Wednesday morning, British Parliament holds Prime Minister's Questions, where MPs get to pose questions to the leader and have him directly answer them. Well, today David Cameron continued to defend his decision to hire Andy Coulson, former News of the World editor, as his communications director earlier this year.
Yesterday, it was reported that Parliament was rallying around a motion proposed by the Labour party to demand Rupert Murdoch drop his bid for BSkyB news, which Murdoch did earlier today. During today's convention, Cameron first called for prosecution into all those at News Corp. who were involved in any phone hacking or other illegal activities.
There is a firestorm, if you like, that is engulfing parts of the media, parts of the police, and indeed our political system's ability to respond. And what we must do in the coming days and weeks is think, above all, of the victims, like the Dowler family, who are watching this today and make doubly sure that we get to the bottom of what happened and we prosecute those who are guilty.
Labour leader Ed Miliband asked Cameron if he thought it was disgraceful that as of yet, News International executive Rebekah Brooks has not resigned. Cameron said he would welcome Brooks' resignation, and insisted that News Corp. get its priorities straight:
There needs to be root and branch change at this entire organization. I think it is now become increasingly clear that while everybody to start with wanted, in some way, to separate what was happening at News International and what is happening with BSkyB, that is simply not possible. What has happened at this company is disgraceful, it's got to be addressed at every level, and they should stop thinking about mergers when they've got to sort out the mess they've created.
After finding common ground with the prime minister opposing the BSkyB deal, Miliband shifted his focus to Cameron's ties to Andy Coulson, who was recently arrested due to his involvement in News of the World phone hackings. Cameron said he hired Coulson based on assurances that he had absolutely nothing to do with any criminal activity. However, he insisted that nothing has been definitively proven, and they should stick by the principle of innocent until proven guilty for the present moment.
Cameron also had to explain his decision to hire Coulson even after his office was allegedly contacted by an editor of the Guardian with claims that Coulson had ties to seedy private investigator Jonathan Rees, who bribed police officers for confidential information while employed for News of the World.
First of all, this information was not passed on to me, but let me be clear. Let me be clear. This was not some secret stash of information, almost all of it was published in the Guardian in February 2010 at the same time my office was approached. It contained no allegations directly linking Andy Coulson to illegal behavior. It didn't shed any further light on the issue of phone hacking, so it wasn't drawn to my attention by my office.

And what's more, Mr. Speaker… let me just make this point… I met the editor of the Guardian the very next month, and he didn't raise it with me once. I met with him a year later, he didn't raise it with me then either. Indeed, I would ask, if this information is so significant, why have I not been asked one question about it at a press conference or in this house?
Cameron did express support for a criminal prosecution should the allegations turn out to be true, but did not offer an apology for hiring Coulson in the first place. Miliband continued to push Cameron on this path, but Cameron was slightly angered by the line of questioning, and proceeded to flip the script on Miliband.
He can stand there and ask questions about Andy Coulson, I can stand here and ask questions about Tom Baldwin.
Tom Baldwin is an adviser to Miliband and former writer for The Times, another Murdoch-owned publication, who was recently accused of paying private investigators to hack the bank account of billionaire conservative donor Lord Ashcroft.
The rhetoric got more heated from then on, with both Cameron and Miliband accusing each other of misinterpreting their positions. You can watch the intense back-and-forth below, courtesy of the Guardian:
Have a tip we should know? tips@mediaite.com
Josh Feldman - Senior Editor