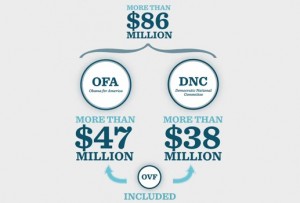 In advance of Friday's FEC filing deadline, Obama For America has released a video detailing the campaign's fundraising success during the 2nd quarter of 2011. While other candidates brag about "money bombs," President Obama's reelection campaign looks more like a money supernova. Campaign manager Jim Messina points out, though, that the enormity of the President's war chest must be balanced against the staggering amounts of Citizens United cash that will benefit his eventual opponent.

The campaign released the video "exclusively" to supporters in an email Wednesday morning, and the figures are impressive. According to Messina, the campaign has raised $47 million dollars from 552,462 donors, 98% of whom donated $250 or less. The average donation was $69 (huh-huh).
They raised another $38 million jointly with the Democratic National Committee.
By contrast, the Republican fundraising leader, Mitt Romney, is expected to announce $15-20 million in donations for the quarter, including $10 million that he said he raised in a single day, but really didn't.
While all of this sounds like good news for the President, the fact that the billion dollars his campaign is expected to raise will likely dwarf his eventual opponent's tally sets up a deceptive Goliath-esque appearance. Messina points out that the President will face an unprecedented amount of opposition from independent groups, with no limits on donations, and no duty to disclose their individual donors. Messina projects the figure at $500 million, but there's really no way to tell. This will be the first presidential election held in the post-Citizens United petri dish.
Citizens United notwithstanding, if President Obama's opponent wants to accuse him of being in the pocket of Big Person, that's a chance the campaign will happily take.
Here's the video, from OFA:
Have a tip we should know? tips@mediaite.com