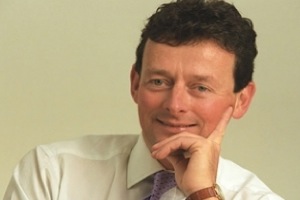 The American media been unequivocal in condemning BP CEO Tony Hayward for everything from his negligence and insensitive comments, but on the other side of the pond, it has been a little more difficult to disown a man who was once their geological boy genius with a "disarming smile" set to save one of the nation's greatest companies from an administration wrought with ethical breaches.
It's hard to believe in the post-Deepwater Horizon world, but there was a time in which Tony Hayward was something more than a goofy-sounding punching bag for distraught Americans and Congressmen running for reelection, but when Hayward became CEO of BP, he was expected to bring the corporation out of the dark ages of former CEO Lord Browne, an actual British Lord whose administration was infamous for both ethical and technical safety deficiencies. In 2007, BBC wrote about Hayward's love of sailing and cricket and boasted that he had attained his Ph.D. at 22 years of age and rose through the company armed with a "disarming smile and informal manner." While the American media– introduced to Hayward with a clean slate when he made his first public statement that the Gulf of Mexico was a "very big ocean"– feasted on Hayward's apparent incompetence with relish, it was more difficult for UK media to disavow their previous positive image of the chief executive.
In a recent profile from the UK Times, Hayward is described as a loving, protective father with a "passion" for safety and an indefatigable desire to do the right thing, who is now facing an inexplicable barrage of hatred as "the most hated man in America" after being corrupted by the influence of Lord Browne:
"Paradoxically, the 53-year-old Briton looked like the best qualified person to prevent the oil geyser becoming America's worst environmental catastrophe, not the "bumbler from BP" characterised by one American magazine… The reticent Hayward could not have been more different from Browne, dubbed the 'Sun King' for his lavish lifestyle and criticised after a string of setbacks, notably an explosion at the company's Texas City oil refinery in 2005 that resulted in 15 deaths. Hayward publicly criticised the company the following year, but it was a scandal that expedited Browne's resignation in 2007, when he was accused of using company funds to keep his Canadian boyfriend — he denied misconduct."
The Guardian took the time to explore not just Hayward's background, but what exactly got him to where he is today in an article titled "How An Affable Geologist Became America's Most Hated." To them, as well as to Hayward, "being dubbed public enemy No 1 in America is a curious place for a bright, affable and experienced British geologist to find himself." To the Guardian, it seemed fascinating that Hayward's record for being vocal on safety would lead him to the position in which he is today.
But it was the Telegraph that gave the most effusive and, perhaps, least realistic, defense of the BP CEO, in an article on the increased police presence necessary around the Hayward household (Hayward is married with two teenaged children). While it isn't quite complimentary to Hayward on any personal level, the piece defends BP's performance and opens with Mrs. Maureen Hayward's understandable safety concerns despite an "ongoing police operation" around his home. Not only does the article toss out there that Hayward "was dubbed the 'the most hated and clueless man in America' by one American newspaper," without quite explaning why, it takes some comments by Mississippi governor Haley Barbour completely out of context to make the spill seem more minimal:
"The truth is we have had virtually no oil," Mr Barbour told Fox television. "We've had a few tar balls but we have a few every year", he added, because of natural seepage in the Gulf of Mexico.

"The biggest negative impact for us has been the news coverage," he said, as reports gave the misleading impression that the entire coast from "Texas to Florida" was "knee deep in oil".
Barbour's comments did come as a bit of a shock when he delivered them on Fox News Sunday. But what the Telegraph piece de-emphasizes is the fact that Barbour repeatedly noted that the Louisiana coast is in a dire situation, and that he went out of his way to make the distinction. While he did attack the media, he didn't quite claim that there was no oil at all the way the Telegraph piece connotes.
It makes sense that the UK press would not be so eager to harp on Hayward as Americans are– it's always hard to see a fallen star, especially one whose corpse is being picked at by foreigners who didn't get to watch him rise. But some of the praise, especially from the perspective of those living in the country that Hayward's corporation drilled a giant hole into and then left it bleeding for 57 days and counting into the ocean, borders on the insensitive towards the true outrage this disaster (and Hayward, for spearheading it) deserve.
Have a tip we should know? tips@mediaite.com