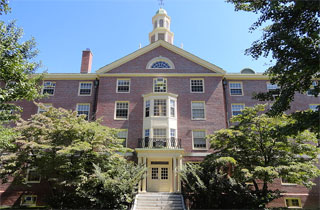 The University of Massachusetts Amherst, after receiving a significant amount of backlash, announced today that they would allow Iranian students to take science classes at their college, after all.
The school had initially announced that they would bar Iranian nationals from admission to certain science courses — such as physics, chemistry, and computer engineering — claiming that they were following guidelines set by the State Department. However, despite the State Department's interest in ensuring Iranian nationals do not enroll in American science programs if they intend to work in the nuclear or energy industry — a.k.a., Places Where Iran Would Build a Nuclear Reactor and Maybe a Bomb — even they were confused by UMass Amherst's decision.
"U.S. law does not prohibit qualified Iranian nationals coming to the United States for education in science and engineering," a State Department official told NBC News yesterday, and promised to reach out to the school.
We're still not sure if UMass Amherst gets it, but they announced today that they had revised their decision, and would now allow Iranian nationals to enroll in science courses, and that they would develop "individualized study plans to meet the requirements of federal sanctions law and address the impact on students."
"This approach reflects the university's longstanding commitment to wide access to educational opportunities," Michael Malone, vice chancellor for research and engagement, said in a statement. "We have always believed that excluding students from admission conflicts with our institutional values and principles. It is now clear, after further consultation and deliberation, that we can adopt a less restrictive policy."
Earlier, a spokeswoman told NBC News that the decision was "prompted by an inquiry from a student," who probably feels a bit silly right about now.
[University of Massachusetts Amherst]
[Image via Kevin Rutherford/Wikimedia Commons]
— —
>> Follow Tina Nguyen (@Tina_Nguyen) on Twitter
Have a tip we should know? tips@mediaite.com