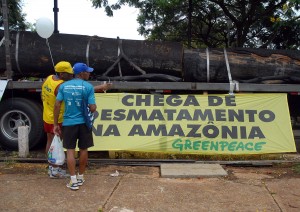 Welcome to Undercovered: our daily feature bringing attention to stories we feel deserve a larger audience.
—
2015 was a very dangerous time to be an environmental activist. According to a report in the Guardian published Monday, 185 environmental activists were killed in 2015 across 16 countries. Forty-two of those deaths were related to protests. It was the highest such death toll on record, according to the UK-based watchdog group Global Witness.
The deadliest industry to protest was mining, and the deadliest country was Brazil, where 50 died, many protesting illegal logging in the Amazon. Two-hundred environmental activists were killed in Brazil between 2010 and 2015, the Guardian notes.
The most deadly industry to protest against was mining, with 42 deaths in 2015 related to anti-mining activities. Agribusiness, hydroelectric dams and logging were also key drivers of violence, Global Witness found, and many of the murders occurred in remote villages deep within rainforests.

In Brazil, thousands of illegal logging camps have been set up and are cutting down valuable hardwoods like mahogany, ebony and teak.

The report said criminal gangs terrorise local populations at the behest of "timber companies and the officials they have corrupted".

It is estimated that 80% of timber from Brazil is illegal and accounts for 25% of illegal wood on global markets. Much of this is being sold on to buyers in the UK, US, Europe and China, and is contributing to one of the world's highest rates of forest loss, the report said.

The report also focused on the vulnerability of indigenous people, saying they suffer weak land rights and geographic isolation, making them particularly exposed to land grabbing for natural resource exploitation. Almost 40% of last year's victims were indigenous people.
You can read the Guardian's complete report here.
[photo: Protest in Brasilia, 2007. This photograph was produced by Agência Brasil, a public Brazilian news agency, via Wikicommons]

—
Undercovered is a new daily feature from Mediaite, bringing attention to stories that warrant more attention. Go through the Undercovered archives here. If you have an idea or a tip, please email us at Undercovered@mediaite.com 
Have a tip we should know? tips@mediaite.com