Undercovered: Iranian Women Arrested for Posting 'Un-Islamic' Photos on Instagram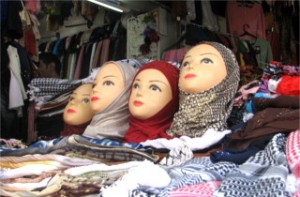 Welcome to Undercovered: our new daily feature bringing attention to stories we feel deserve a larger audience.
—
Eight Iranian women have been arrested for "making and spreading immoral and un-Islamic culture" in the form of photos posted on Instagram.
The arrests are the culmination of a two-year investigation into models who post images of themselves without the compulsory hijab. The investigation, codenamed "Spider II," "identified 170 people running online Instagram pages – 59 photographers and makeup artists, 58 models, 51 fashion salon managers and designers, and two active institutions," AFP reported.
Vocativ's Sara Morrison writes:
If you live in Iran, your social media options may already be limited: Facebook and Twitter are officially blocked (although many find ways to use the sites anyway). Instagram, though, is allowed, and has been used by everyone from female fashion entrepreneurs to rich kids.

But users must adhere to Iran's laws, and one of those laws is that women are required to wear headscarves—apparently even in online pictures.
One of the women arrested, a well-known Iranian model named Elham Aram, who is "Famous for her blonde hair and wedding portraits," according to the India Times, was "forced to issue a public apology on state television."
Elham said, "All women love beauty and fame. They would like to be seen, but it is important to know what price they will pay to be seen…a model will certainly lose her hijab and honour."
The arrests are another reminder that, notwithstanding the recent historic deal reached between Iran and six world powers including the U.S., the Islamic nation continues its crackdown on social freedoms.
My Stealthy Freedom is a two-year-old "online social movement" and Facebook page that gathers and makes public images that women share of themselves not wearing the hijab. The page's administrators wrote in a post on Monday responding to the arrests:
It's as though we are witnessing a daily cultural war between these women and the government. The war is about lifestyle … The lifestyle they have versus the lifestyle the government wants them to follow.
—
"Undercovered" is a new daily feature from Mediaite, bringing attention to stories that warrant more attention. If you have an idea or a tip, please email us at Undercovered@mediaite.com
[image: Orrling via Wikimedia Commons]
Have a tip we should know? tips@mediaite.com