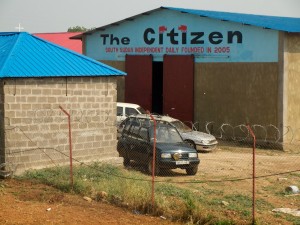 Welcome to Undercovered: our daily feature bringing attention to excellent reporting and stories we feel deserve a larger audience.
—
In a harrowing article published in The Intercept Friday, Nick Turse reports on the daily reality of being a working journalist in South Sudan, where abduction and assassination are omnipresent threats.
The report recalls that last year South Sudan President Salva Kiir told reporters: "Freedom of the press does not mean that you work against your country. If anybody among them does not know that this country will kill people, we will demonstrate it, one day, on them."
In a subsequent statement the president's office clarified: "This was just a reminder to South Sudanese journalists, not a threat," saying that it had been "distorted" as such. The statement continued: "Nothing shall harm a journalist when he/she is going about his/her journalistic profession."
Yet Turse proceeds to detail specific stories from the past year-and-a-half of journalists being detained, killed, or roughed up. He writes:
There are no useful estimates, much less accurate statistics, of crimes against journalists in South Sudan, which ranks 140th out of 180 countries in the World Press Freedom Index published by Reporters Without Borders this year. Last year, the Union of Journalists of South Sudan counted 40 instances of all types — unjustifiable arrests, detentions, and harassment, as well as the killing of seven reporters including Moi. The Community Empowerment for Progress Organization, a civil society organization that also tracks such abuses, has documented 23 incidents of harassment or violence against journalists so far this year. These numbers, however, fail to scratch the surface.

"Harassment is going on every day," said Alfred Taban, editor-in-chief of theJuba Monitor, a top English-language daily, and chairperson of the Association of Media Development in South Sudan, echoing what more than 20 reporters, editors, media experts, and human rights advocates told me when I recently visited South Sudan. According to Koang Pal Chang, the station manager of Juba's Eye Radio and chairman of the National Editors Forum, "The large majority of these [incidents] are not recorded. … But it's what everybody goes through." As he explained it, "We'll send a journalist to cover a government press conference and a minister will say, 'You, Eye Radio, you are reporting about this or that. If you don't stop, we'll close you down.'" One reporter, he told me, was locked up for three hours by members of the security services and told, "Next time we see you, we'll spray you with bullets."
You can read the complete article, part of a series, at The Intercept here. Turse is also the author of Next Time They'll Come to Count the Dead: War and Survival in South Sudan.
—
Undercovered is a new daily feature from Mediaite, bringing attention to stories that warrant more attention. If you have an idea or a tip, please email us at Undercovered@mediaite.com
[photo: The offices of The Citizen newspaper, the largest independent paper in Juba and South Sudan. July 2011. Taken by Gregg Carlstrom.  Released via Creative Commons CC BY-NC 2.0. Via Flickr]
Have a tip we should know? tips@mediaite.com