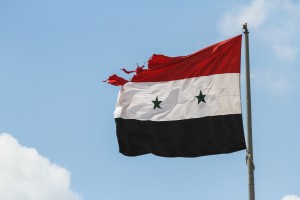 Undercovered is our daily feature bringing attention to women's issues worldwide, which we feel deserve a larger audience.
—
Madeline Rees writes in an op-ed published in The Guardian that a "simple version" of understanding global conflict holds that nationalist, militaristic movements have their roots in gender-based power structures.
The simple version of how we descended into chaos begins with inequalities – power structures that favour the few over the many and are highly gender-biased. Within those power structures are a multitude of different discriminations, based on class, race, religion and sexual orientation. The result of the political economy as it stands deepens divides and leads to exclusion. With exclusion comes insecurity and the more insecure people feel, the more likely they are to look for protection.
Rees argues for mobilizing and empowering women around the world to take an active role in policymaking and development. In Syria, she writes, "in the middle of war, women are taking on patriarchy, working on delivering human rights and real gender analysis in humanitarian assistance, and education, and trying to get into local government to accelerate that approach. They are not known, not supported, but vital as a means of transforming the conflict from the inside and accelerating the possibility of peace."
You can read her complete op-ed here.
—
Undercovered is a daily feature from Mediaite, bringing attention to stories about women's issues that warrant more attention. Go through the Undercovered archives here. If you have an idea or a tip, please email us at Undercovered@mediaite.com
[image: ART production / Shutterstock.com]
Have a tip we should know? tips@mediaite.com