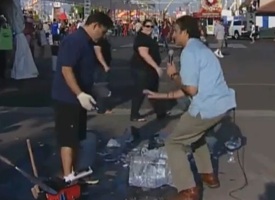 Making the rounds this week is another video to add to the Local Reporter Gaffe Hall of Fame. But is it fake? Mediaite has the truth straight from the sculptor's mouth.
This past weekend, the KOCE public television show "Real Orange" went out to cover the annual Orange County Fair and interviewed an understandably tired sculptor, Roland Herndandez, eight hours into his latest creation – an angel carved out of a large block of ice. Moments later, the video shows the reporter lean on the ice while Hernandez is switching tools and, well, the angel's in heaven now.
The video is fantastic and very rewatchable, as are the uncomfortable overly-understanding responses from the two "Real Orange" anchors. However, as OC Weekly has noted, there are some suspicious elements. For one, reporter David Nazar is curiously good about keeping the mic in Hernandez's face so he gets almost every second of his angry response (except for presumably some threat he makes towards David's camera equipment).
Also, astute watchers will note that from 0:09 to 0:15 in the video, the timestamp jumps from 8:54AM to 8:56AM, implying an edit. So was it a cut made by "Real Orange" as they were setting up the cherubic pratfall? Or was it YouTube uploader CrazyLaughAction, who just cut out a minute of ultra-boring county fair banter?
Well a little investigating yielded Hernandez's California ice sculpting company, Carving Ice, and we contacted him to get the truth. Was it real or fake? And how much would that kind of ice sculpture have cost to replace?
We were just having some fun. Our sculptures go anywhere from $85 up to $5000 depending on what the piece is.
Case closed, we've been duped. But I guess, if it's about enjoying a good LOL-worthy video, then everybody wins. And what about Hernandez? Is his newfound weblebrity drumming up business?
No business yet from it but I'm sure we will see something.
Yep, everybody does win.
Have a tip we should know? tips@mediaite.com