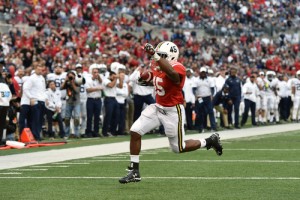 The University of Maryland's football stadium at its College Park main campus is about to undergo a major name change.
The Washington Post reports that Byrd Stadium, named for former football star, head coach and university president Harry Clifton "Curley" Byrd, is now going to be called Maryland Stadium. That's because the university's board of regents voted 12-5 on Friday morning to remove Byrd's name from the facility.
Why? Because as president, Byrd tried to prevent the school from having to acquiesce to federal demands for integration.
"For some African-Americans and other people of color, the name 'Byrd stadium' conveys a racial message hidden in plain sight," said current university president Wallace D. Loh in a statement.
After indicating that the 2015 freshman class was the school's most diverse incoming class in the institution's history, Loh continued: "Yet, we know that these dramatic changes have not eliminated racial tensions. Today's progress cannot fully undo memories of yesterday's wrongs."
As the WaPo notes, Byrd's tenure as president was filled with great successes.
The university grew from 3,400 students to 16,000. He oversaw the construction of more than 60 buildings on campus while the budget increased from $3 million annually to $20 million.
Yet Byrd was also "quoted as saying that the state should prevent black students from enrolling at the flagship campus, stating that 'we're going to have to accept negroes at College Park, where our girls are.'"
The first black students to enroll at the University of Maryland did so during Byrd's presidency. According to the WaPo, he opposed their entry.
[h/t Washington Post]
[Image via Shutterstock.com]
— —
>> Follow Andrew Husband (@AndrewHusband) on Twitter
Have a tip we should know? tips@mediaite.com