Univision Reporter: We Turned Down El Chapo Interviews Because He Wanted Approval Power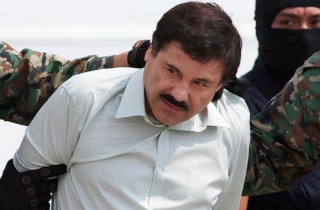 A Univision investigative reporter wrote today that the network had an two separate opportunities to interview El Chapo that they passed on.
Why? Because he wanted approval power over the final product.
Gerardo Reyes wrote in The Washington Post today that back in 2013, a confidential source informed him that the notorious drug lord had agreed to a sit-down interview. The only catch? "Everything that made it to air would have to be approved by him."
Now, of course, this should instantly remind everyone of Sean Penn's Rolling Stone interview of El Chapo, given how at the top of that piece the magazine says El Chapo got approval power over the final product.
But unlike Rolling Stone, Reyes says, we "quickly came to the conclusion that we could not subject our work to revisions by the subject of our reporting."
They had sent a crew to Mexico to do some in-depth reporting on El Chapo's drug empire, and still aired that investigation on air, but without that big interview. And apparently Univision later learned El Chapo loved the report, with exceptions:
The source with direct contact with Guzmán told me that the cartel boss had projected the Univision show on a big screen installed outdoors at one of his mountaintop camps so his bodyguards could watch it. Though dozens of Guzmán's employees cheered on several occasions during the broadcast — especially the part detailing his first jailbreak in 2001 — the source says Guzmán was displeased with an animation showing him in the back of an SUV, his hands and feet tied together, "like a pig being taken to the slaughterhouse."
Now, before Chapo had spoken to Sean Penn after his escape a few months ago, Univision was again approached about an interview with the same requests for approval power. And again, Reyes writes, they demanded an interview "without editorial restrictions."
Here's how Reyes felt after learning that Penn scooped them:
The moment I heard about Penn's interview, I felt as if I had lost a long and grueling obstacle race. But still, I never regretted rejecting Guzman's conditions because I knew the capo would omit so much, especially his role in Mexico's violent drug wars.
[image via screengrab]
— —
Follow Josh Feldman on Twitter: @feldmaniac
Have a tip we should know? tips@mediaite.com
Josh Feldman - Senior Editor