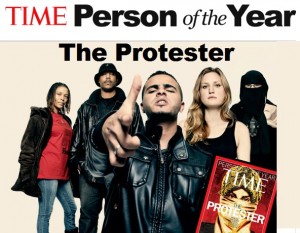 After being heavily derided for naming mid-aughts sensation Mark Zuckerberg as its 2010 Person of the Year, Time Magazine has bounced back and gotten it right this year. The magazine has named "The Protester" its 2011 Person of the Year, which, the magazine notes, marks a rather miraculous comeback for that form of political action. In 2011, political protests literally changed the world, and even made something of a dent in the American cultural landscape.
For a very long time, political protests, no matter how large, seemed like so much wallpaper, ubiquitous and of dubious relevance. Even the Tea Party, which carried the accessories of political protest, was more like a series of pep rallies for a (very effective) political movement than anything resembling unrest. All of that changed this year, though, beginning with the Arab Spring that started in Tunisia, and spread to Egypt and throughout the region.
In the United States, the Occupy Wall Street protests are all anyone can talk about for the past few months, but that movement was foreshadowed at the beginning of the year, when thousands of Wisconsin protesters took over the state's capitol to oppose Gov. Scott Walker's anti-union policy agenda.
The Time article thoroughly traces the protests that dominated the world, and the news, this year, and tries to face the inevitable reality behind these movements.
Among several runners-up, ironically, was Wisconsin Congressman Paul Ryan, whose budget proposal was roundly dismissed by anyone with a clue, yet who was still given "credit" by those same people for coming up with something. Time credits him for single-handedly bending the political conversation to debt and deficits, away from job creation. Maybe they meant it in the same way they meant that Ayatollah Khomeni was "Man of the Year." That distraction has pulled the country away from solving the problem that it's in now, to focus on a problem whose solution has made things worse in the near-term.
Other runners-up include freshly-minted royal Kate Middleton, Chinese political prisoner Ai Weiwei, and bin Laden-hunter Adm. William McRaven.
Have a tip we should know? tips@mediaite.com