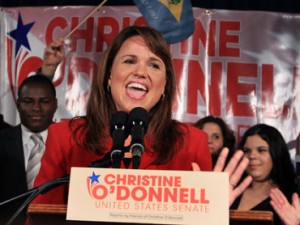 While he has the backing of the Republican establishment, former Massachusetts Governor Mitt Romney has so far been unable to cast a spell over GOP primary voters. All of that may change, however, now that he has secured the endorsement of former witchcraft-dabbler and losing US Senate candidate Christine O'Donnell.
RELATED: Who Really Believes That Christine O'Donnell Dabbled in Witchcraft?
The Romney campaign announced the O'Donnell endorsement in an email to reporters relatively late last night, but well short of the witching hour:
Boston, MA – Mitt Romney today announced the support of conservative activist Christine O'Donnell.

"Christine has been a leader in the conservative movement for many years," said Mitt Romney. "Christine recognizes that excessive government threatens us now and threatens future generations, and I am pleased to have her on my team."

Announcing her support, Christine O'Donnell said, "For me, this endorsement comes down to trust. I am endorsing Governor Romney because I trust him to do the right thing. He has the strength of conviction to do the right thing regardless of opposition. America needs a president who is not a Washington Insider. America needs a president who hasn't been playing the game for the last three decades. America needs a president who can turn our economy around, put Americans back to work, and will lead with stability, integrity and the values that we hold dear. I am confident Mitt Romney will be that president."

Background On Christine O'Donnell:

Christine O'Donnell Has Been A Leader In The Conservative Movement For Many Years. O'Donnell has been an advocate for various conservative causes and campaigns during this time. In 2010, she was the Republican nominee for U.S. Senate in Delaware.
RELATED: Christine O'Donnell's New Campaign Ad: "I'm Not A Witch… I Am You"
O'Donnell, you may recall, became a huge media star during her run for US Senator from Delaware when Bill Maher, host of HBO's Real Time, began promoting clips of her 1990s appearances on his Politically Incorrect, the most famous of which showed O'Donnell claiming to have dabbled in witchcraft. That clip prompted O'Donnell to produce the first campaign ad in which the candidate denied being a witch, at least since the 1692 Salem city council race. She lost her Senate bid by 17 points, and slowly faded from the limelight. She was last seen scolding Joe Scarborough for referring to his longtime friend and colleague Sen. Tom Coburn as "Tom."
Now, O'Donnell is riding to Mitt Romney's rescue, as his candidacy languishes on the bubble of the top tier in Iowa, and while it is tempting to make jokes, Christine O'Donnell's endorsement might actually do some good. While O'Donnell is something of a media punchline, and a joke to many political observers, she has some pull with two groups that Romney needs to sway: religious conservatives and Tea Partiers. The effect of endorsements is always debatable, but such as they are, this one's a net positive for Romney.
She should also be able to deliver key demographics like "guys named Darren" and "potion industry workers."
Have a tip we should know? tips@mediaite.com