USA Today Columnist Suspended on Twitter For Charlotte Protest Post: 'Run Them Down' (UPDATED)
As protests in Charlotte descended into chaos and violent outbreaks on Wednesday night, a conservative columnist for USA Today put out a provocative tweet that seems to have led to his suspension on social media.
University of Tennessee law professor Glenn Reynolds is creator of the Instapundit blog, and he was following along with the protests being held after the fatal police shooting of Keith Lamont Scott. As the night progressed, his @instapundit Twitter account posted quite the message as he linked to a protest live-stream: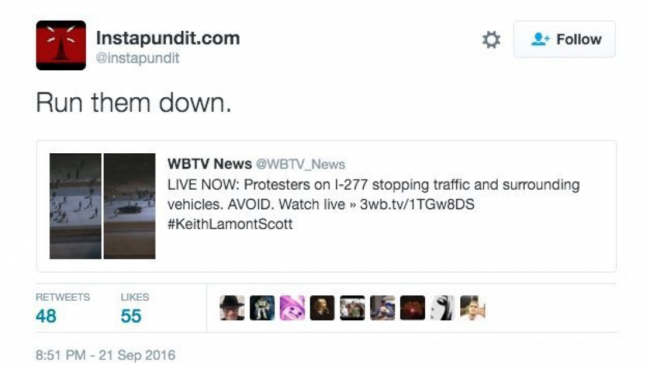 Instapundit was shut down on Twitter soon afterwards, and there have been calls for USA Today and University of Tennessee to sever ties with Reynolds:
That instapundit person openly called for violence against black folks and people are mad the account got suspended. I guess

— Vann R. Newkirk II (@fivefifths) September 22, 2016
@UTKLaw are you aware of the statement that Glenn Reynolds made? https://t.co/4N8MLYDZym

— Amber Dawn (@Amber_Aquarius) September 22, 2016
The lesson from the Clara/Jeffrey/Instapundit sagas is that the worst tweets come when people are using BLM riots to signal boost.

— Bobby Big Wheel (@BobbyBigWheel) September 22, 2016
Just wanted to add my displeasure regarding your employee's inciting violence against protestors, @USATODAY and @UTKLaw!

— José Martinez (@jose__tweets) September 22, 2016
I see @twitter suspended Instapundit. For telling ppl surrounded by a violent mob in their vehicle to keep going, run them down if have to.

— KeepCalmAndDrawl (@FormerlyFormer) September 22, 2016
Even so, plenty of people view the suspension as thoroughly unfair:
BLM radical riot cheerleader @deray hangs with @Jack, but @instapundit gets suspended? WTH?

— Ben Shapiro (@benshapiro) September 22, 2016
Did @Twitter really suspend @instapundit? Is there a statement from @Twitter on why it did so?

— Hugh Hewitt (@hughhewitt) September 22, 2016
Twitter has suspended @instapundit, presumably for being conservative.

— Phil Kerpen (@kerpen) September 22, 2016
The #SJW mob is out in full force. Now it's @instapundit. Eventually it will be all wrong-thinkers.https://t.co/vC2EejLsPw

— John Schindler (@20committee) September 22, 2016
Absurd. Instapundit suspended by Twitter for this tweet -> pic.twitter.com/ZMr7yMOdy1

— Charlie Spiering (@charliespiering) September 22, 2016
As for Reynolds himself, he took to his blog and accused Twitter of stifling viewpoints it disagrees with:
"Blocking the interstate is dangerous, and trapping people in their cars is a threat. Driving on is self-preservation, especially when we've had mobs destroying property and injuring and killing people. But if Twitter doesn't like me, I'm happy to stop providing them with free content."
UPDATE – 10:24 p.m. ET: Reynolds has been allowed back on Twitter.
Twitter has unblocked my account on condition of deleting the offending tweet. I've done so, but it's here:: https://t.co/DDkZd2el6Y

— Instapundit.com (@instapundit) September 22, 2016
[Image via screengrab]
— —
>> Follow Ken Meyer (@KenMeyer91) on Twitter
Have a tip we should know? tips@mediaite.com