USDA Official Resigns After Racial Comments Surface; NAACP Calls Comments "Shameful"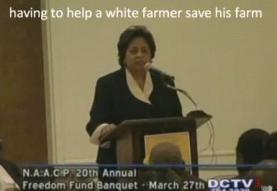 An edited two-minute clip of an African American United States Department of Agriculture official has brought about her resignation after BigGovernment.com published it yesterday.
Shirley Sherrod has resigned, the NAACP has condemned her "shameful" comments about withholding help for a white farmer and Sherrod has said she was taken out of context.
In the video clip, put out by Andrew Breitbart's site and a speech she gave at a March NAACP banquet, she describes an interaction with a white farmer:
What he didn't know while he was taking all that time trying to show me he was superior to me was, I was trying to decide just how much help I was going to give him. I was struggling with the fact that so many black people had lost their farmland, and here I was faced with having to help a white person save their land. So I didn't give him the full force of what I could do. I did enough.
NAACP President and CEO Ben Jealous agreed with the resignation, tweeting, "Racism is about abuse of power. Sherrod had it at USDA. She abused a white farmer because of his race. NAACP is appalled. Go to naacp.org." The full NAACP statement is here, in which they call the actions "shameful."
The Atlanta Journal-Constitution spoke to Sherrod who says she was taken out of context, and that Fox has 'taken a spin'. She says the story she's describing happened 24 years ago and she later worked with the man and became his friend.
Here's Sherrod's comment, and below, Sean Hannity's take last night:


From Hannity:

—–
» Follow Steve Krakauer on Twitter
Have a tip we should know? tips@mediaite.com