USDA Responds to Andrew Breitbart and Rep. Steve King on Black Farmer Settlement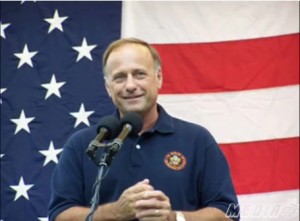 Secretary of Agriculture Tom Vilsack held a telephone press conference Monday to discuss the recent passage by unanimous consent of The Claims Resettlement Act of 2010, which provides, among other things, for funding of a settlement between the USDA and black farmers who suffered racial discrimination. The so-called Pigford 2 case was also the catalyst for Rep. Steve King's observation, today, that Barack Obama is "very, very urban."
After the conference call, we asked the USDA to respond to allegations, by King and conservative media figure Andrew Breitbart, of widespread fraud in the Pigford case, and a supposed connection to the firing of Shirley Sherrod.

Conservatives have been trying to make hay out of Sherrod's connection to the Pigford case since before the virtual ink on her forced resignation was dry. Both King and Breitbart have alleged that Sherrod, who was a successful claimant in the Pigford 1 settlement, was fired by Secretary of Agriculture Tom Vilsack in an effort to keep the settlement under the political radar. This is belied by the fact that Vilsack volunteered the information in a nationally televised press conference the very next day.
Both King and Breitbart have also alleged that the overwhelming majority of Pigford claims are out-and-out fraud, with Breitbart pegging the number at around 75%, and King declaring that all but a "few dozen" of the claims are fraudulent.
In a July interview with Mediaite, King promised an investigation of the Pigford case should the Republicans take over the House during the midterms. King also has a history of at times racially-charged opposition to the Pigford settlement. In addition to his comments earlier today, King has previously referred to the settlement as "slavery reparations." From C-Span:
The chief bit of "evidence" given for fraud in this case, aside from so-far-anonymous anecdotes, is the fact that there are an estimated 80,000 Pigford claimants, there were only around 18,000 black farmers in the US in the 1990s. As I've pointed out before, though, Breitbart may be correct in saying that many Pigford claimants have "never seen a piece of farmland," but that's because the USDA discriminated against them!
When presented with King's and Breitbart's allegations, a USDA spokesman issued the following response: (via email)
These accusations are nothing more than an attempt to derail an effort to provide long-overdue compensation to thousands of farmers who were discriminated against over several decades. Current census numbers on black farmers are not the proper guide for the number of claimants, and certainly no basis for allegations of fraud. Out of the 15,000 claims processed under Pigford I, the FBI determined that only 3 claims were fraudulent, and this Administration is committed to ensuring that the new claims process has integrity and provides justice to those who have suffered discrimination.
If King's incendiary statements aren't evidence enough of bad faith, the fact that he ignores key facts ought to be. Not only were all allegations of fraud in Pigford 1 investigated by the FBI, but only about 63% of those claims were approved, even using the less-stringent Track A burden of proof. There has obviously been rigorous oversight involved throughout, yet King misleadingly characterizes the claims process as a rubber stamp.
Opponents of the Pigford 2 funding aren't interested in stricter oversight, that's not what they're asking for. Rather, they wish to turn this issue into a political wedge that pits our "very, very urban" President against those who would object to paying "slavery reparations," with nary a thought to the black farmers whom the USDA has already admitted to discriminating against.
Have a tip we should know? tips@mediaite.com