Utah Radio Station Drops Sean Hannity's Show After Possible Accusations Of Incivility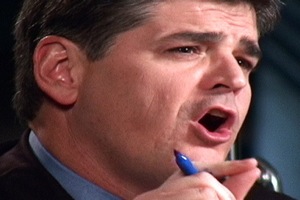 A radio station in Utah run by the Church of Jesus Christ of Latter-Day Saints will no longer air the nationally syndicated Sean Hannity Show beginning this October. While the station announced that the decision had to do with the cultivation of local programming, the local ABC affiliate is reporting that questions about the program's civility were circulating recently before the decision.
KSL Radio, run by a for-profit arm of the LDS church named Deseret Media Companies, announced its decision earlier this week. ABC4 Salt Lake City reports that the announcement came in light of speculation that the program was "not in line with Deseret Media Company's mission statement that calls for civility and other ethical stances."
The official announcement, however, said nothing of the sort:
"In a press release, Mark Willes, CEO of KSL Broadcasting Inc. said, 'We acknowledge the great partnership we've had with Sean Hannity and appreciate his contributions to furthering public dialogue,'

'At the end of the day, we simply feel our future success and competitive advantage reside in creating unique local content, and that is our objective for developing replacement programming,' said Willes.
While all overt signs point to it being a decision based on the desire for more local content, and the #1 rated Sean Hannity will certainly be fine (he was already picked up by KNRS, which also syndicates Glenn Beck and Rush Limbaugh), the Salt Lake Tribune stuck with the story that Hannity's content was a little too hot for KSL to handle: "Hannity got the ax because his mean-spirited banter was out of step with a new mission statement at LDS Church-owned media that demands its programming bring "light" and knowledge to listeners."
[h/t ThinkProgress]
Have a tip we should know? tips@mediaite.com