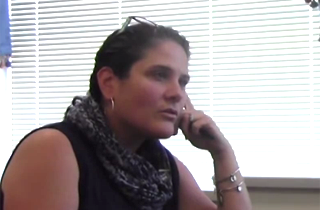 A dean at the University of Virginia filed a massive lawsuit today against Rolling Stone magazine for their damning portrayal of her in their debunked story "A Rape on Campus".
In the lawsuit, obtained by the Washington Post, associate dean of students Nicole Eramo claims that the magazine willfully printed "highly defamatory and false statements" about her character and depicted her as indifferent to rape reports. (The article, which was eventually retracted, purportedly told the story of a horrific gang rape on the school's campus, and the administration's alleged attempts at a cover-up to protect their reputation.)
"As a woman who dedicated her life to assisting victims of sexual assault and domestic abuse, Dean Eramo saw herself tarred in the national press as the chief architect of a conspiracy to suppress Jackie's assault in order to protect UVA's reputation," the lawsuit reads, adding that Eramo suffered emotional distress in the fallout of the story and received "a wave of emails and letters" calling her, among other things, a "wretched rape apologist."
The lawsuit also slammed the magazine and the article's author, Sabrina Rubin Erdely, for callously destroying Eramo's reputation by relying on the testimony of "Jackie," the woman at the center of the article, despite their reservations that she was an unreliable source.
Though the Columbia School of Journalism conducted a thorough investigation into its publication and the magazine printed a lengthy apology, Eramo — whose photo was actually published in the article itself as an illustration — seeks $7.5 million in damages and previously refused Rolling Stone's apologies.
"The University of Virginia previously stated that the Rolling Stone article is an example of irresponsible journalism, which has damaged the reputation of many innocent individuals and the University of Virginia," a university spokesman said in a statement. "Dean Eramo is well within her rights to pursue this private legal action.
[Image via Shutterstock]
—
>> Follow Tina Nguyen (@Tina_Nguyen) on Twitter
Have a tip we should know? tips@mediaite.com