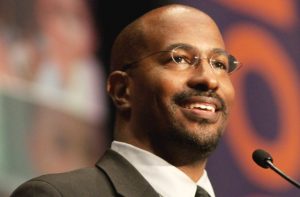 Many Democrats and liberals keep talking about reaching out to Donald Trump's voters and better understanding their concerns, but CNN's Van Jones is actually walking the walk. While he has been very critical of the president-elect, he has been very honest and upfront about the Democrats' problems and he even did an online series where he sat down and spoke with Trump voters face-to-face.
Tonight Jones will host a primetime CNN special called The Messy Truth, which will feature Jones and special guests taking questions from a live audience about the election aftermath.
Ahead of that special, Jones sat down with Rolling Stone to discuss the concerning aspects of a Trump presidency, while also making a plea to Democrats not to paint all his supporters with a broad brush:
I think sometimes progressives think that that all 60 million people who voted for him have signed on to an Alt-Right, white nationalist agenda. They think that we now live in a country with 60 million neo-Nazis. That's just not true! Yes, the white nationalists were a noxious part of his coalition, and the fact that they weren't thrown out is disturbing. But a lot of people held their nose and voted for Donald Trump – despite his bigotry, not because of it. And that should be reason for some more confidence than people have been showing recently.
And Jones, despite saying Trump's election was in part a "whitelash," thinks it's a very bad strategy to demonize all Trump supporters as "bigots." He argued that it actually helps Trump and the better solution for the left is to "build a bridge of respect to the Trump voters who don't subscribe to every thing he ever said."
And the specific phrase he's using to describe the Trump resistance is "Love Army":
We have got to bet on the good in people, including people who voted for Trump, and build up a big Love Army.

How do you do that? We're going to do national teach-ins starting very soon – once a week, every week, standing up for the most vulnerable people: Muslims, the DREAMers, Jewish people, women, trans people, black protestors. And once a week, give the whole country a chance to show a whole lotta love – both to demonstrate and deepen a solidarity with those groups, all under one hashtag. #LoveArmy is an opportunity to reassert at a values level.
You can read the full interview here, where Jones also has some words for Trump himself and the people he's surrounding himself with.
[image via Ryan Rodrick Beiler/Shutterstock]
— —
Follow Josh Feldman on Twitter: @feldmaniac
Have a tip we should know? tips@mediaite.com
Josh Feldman - Senior Editor