Van Susteren Slams NY Times Story on Clinton Emails: 'What's Wrong with Journalism'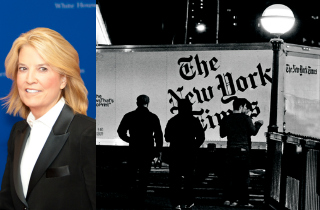 Ever-blogging Fox News anchor Greta van Susteren called out the New York Times Monday morning for its exclusive use of anonymous sources in an article about Hillary Clinton's emails.
The article was by Michael Schmidt, who broke the story of Clinton's use of a personal email account several weeks ago. This morning the Times published a follow-up on the 300 emails Clinton had submitted to the House Select Committee on Benghazi. This collection first alerted the committee to existence of the personal email account. The committee now plans to subpoena more.
Schmidt described the contents of the emails, including the absence of any Benghazi smoking gun. But critics quickly latched onto this paragraph:
The emails have not been made public, and The New York Times was not permitted to review them. But four senior government officials offered descriptions of some of the key messages, on the condition of anonymity because they did not want to jeopardize their access to secret information.
"Can't the NY Times do better than this?" Van Susteren asked. "No named sources and they didn't see the emails themselves and we are suppose to accept this as the facts?"
RELATED: Dem Strategist Needs Anonymity to Critique Clinton's 'Penchant for Secrecy'
She continued:
This is what is wrong with journalism — American people are fed what amounts to as gossip and the NYT is happy to feed it. In the old days, journalists would have worked the stories longer (there is no rush to get this published) and harder and either the journalists would have seen the emails themselves or gotten us names of those who supposedly were telling the content. And other journalists as they read this? Do they call the NYT out? nope, because for the most part this is so common no one sees it as a problem and / or they do it themselves. Anonymous sources should be used rarely, not routinely and in this instance, the reporter has not even seen the emails himself but expects us all to accept this as fact.
Politico's Glenn Thrush and Media Matters' Eric Boehlert also pointed out the sourcing:
Sourcing on @nytimes Clinton email story: 'four senior government officials.' Not FORMER. Does 'govt' exclude Hill? http://t.co/tESuAa0tNF

— Glenn Thrush (@GlennThrush) March 23, 2015
ha. NYT reporter hasn't y'know actually read Hillary's Benghazi emails. (hint: ask Jonathan Karl how that works out) http://t.co/XV7Y30VE4l

— Eric Boehlert (@EricBoehlert) March 23, 2015
The Times' use of anonymous sources has been a recurring thorn in the paper's side; just this morning Public Editor Margaret Sullivan issued a retraction for criticism over use of anonymous sources in Ferguson reporting.
[Image via ChameleonsEye / Shutterstock.com]
——
>> Follow Evan McMurry (@evanmcmurry) on Twitter
Have a tip we should know? [email protected]