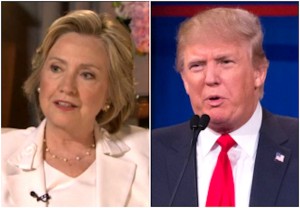 The rhetoric between GOP Presidential candidates Donald Trump and Senator Marco Rubio took another turn this week, with the latter telling NPR Monday that Trump's campaign is, "his freak show".
Name-calling is not new to the political landscape; Teddy Roosevelt is often attributed as the scribe behind the William McKinley description of having, "the backbone of a chocolate eclair". It's been tough for me to keep track of all the highbrow barbs exchanged between the candidates in this still-young campaign season; both sides of my scorecard have already been filled. But the question remains: which party has tossed more heat? I investigate.
First up, the GOP: Rubio continued telling NPR's Steve Inskeep, "[Trump] is a very sensitive person," and recently, "thin-skinned"; Trump has called Rubio "clown", "lightweight", and a "baby".
Next, the Democrats: Bernie Sanders laid into Secretary Hillary Clinton when he let loose with this fury, "Let me confess: I like Hillary."
Ooooh! Feel the Bern, Hil.
Back to the right: Ted Cruz has called his fellow Republicans "liars" and "dishonest".
The Dems: Hillary Clinton really slung it against Vice President Joe Biden with, "Vice President Biden is a friend of mine, and I have a great deal of admiration and affection for him."
Take five, Joe. Ya burnt.
Trump called Jeb Bush an, "unhappy person", Lindsey Graham, "an idiot", and the Scott Walker campaign (RIP July 13 2015 – September 21 2015), "a mess".
In a humdinger that sent shockwaves through the Beltway, Democratic candidate Martin O'Malley said he has "tremendous respect" for the Clintons.
This is getting out of control.
Republican Bobby Jindal gave my personal favorite moment of the campaign when he said of Trump, "he looks like he's got a squirrel sitting on his head".
And the final blow delivered from the left comes compliments of Hillary Clinton, who told Chuck Todd on Sunday's Meet The Press regarding Bernie Sanders, "I certainly respect his views".
Mic drop.
So there you have it; 13+ months before the Presidential election, and the nasty attacks are flying just as viciously from the left as they are the right. It's only September; good thing I've got plenty of blank scorecards ready to go.
Follow J.D. Durkin (@MediaiteJD) on Twitter
Have a tip we should know? tips@mediaite.com