Viceland Employee Comes Unglued at Cohosts For Perpetuating Company's 'Sexist' Reputation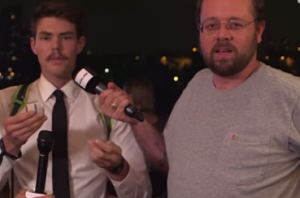 Talking about sexism as it relates, specifically, to Vice Media is actually pretty difficult. On the one hand, they recently launched a very female-forward project called Broadly, which is a channel that puts a decidedly VICE spin on topics that matter to women.
On the other hand… well, you've probably been to the main site, which, lest you forget, was founded by Gavin McInnes (who left it in 2006), and his thoughts on women could be described as retrograde by any wordsmith feeling overly generous. If you've spent some time clicking around there like this person did, you might have gotten a vibe from them that is pretty sexist. Add to that the fact that most of the on-air talent on TV counterpart Viceland is male and the addition of Broadly starts to look like less and less of a selling point for women who would be interested in the company and its content in general.
You know who's tired of that? Dan Meyer, a man who works as equipment manager for Viceland and has been with the company for some time. He was put on camera during a livestream from the Governor's Ball music festival in New York City this weekend. It was raining and there were delays between sets, so the men were there to keep viewers' eyes on the stream. When Meyer's co-hosts tried to do a gag bit with a condom and a microphone, he lost it. Watch from 7:57 to 10:42 here:
Let's review what we just saw. Gawker says the one on the left is former intern Taji Ameen and the one doing the condom bit is production assistant Jake Lawson.
"Whose idea is this?" Meyer asked as Lawson began to unfurl a condom to place on the mic in the rain. "It isn't funny."
After proclaiming that there are "enough dicks on TV already," he forcefully announced, "I hate this. I'm just gonna say full-on that this is stupid."
The other two didn't care at all and went on with their bit, saying, "You gotta pinch the tip…"
Then, he really let it fly as he appeared to address the crew behind the camera with this scathing indictment of their common employer:
You know, we've been struggling with the fact that we're considered a sexist company because we only have men on TV and now we're doing dick jokes? This is embarrassing. I don't think we should even be doing this at all. Can you stop this? Everyone knows how to do this! And if our viewers are too stupid to know…
He knocked the microphone with his hand. The condom came off and Lawson actually took another one out of his pocket to start the gag again. A disgusted Meyer fumed about how unsafe it was for them to even be in the rain surrounded by electronics, then cut to a new segment because he was too upset to keep hosting.
[image via screengrab]
For more from Lindsey, follow her on Twitter or Facebook.
Have a tip we should know? tips@mediaite.com