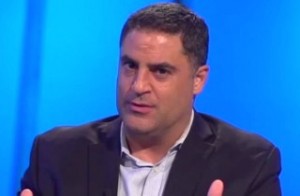 In what is becoming a regular occurrence, The Young Turks recently announced via a press release that the TYT Network has "continued its dominance among millennial viewers" by scoring the number one spot in several key Comscore metrics among younger demographics for the sixth consecutive month. At the beginning of that run, The Young Turks founder and host Cenk Uygur told Mediaite's Joe Concha that "We're crushing some of the largest media companies in the world who have billions of dollars at their disposal when we have almost no marketing budget," a fact which makes their current streak all the more remarkable.
The Comscore numbers show impressive growth, but in a recent interview with Mediaite, Cenk Uygur said those numbers don't even tell the whole story. "That's actually the worst ranking for us," Uygur said, noting that Comscore ratings don't measure mobile views, so "since our audience is younger, more of them are on mobile. If you look at Tubular or Openslate, it's not even close. We blow everyone out of the water."
According to those platforms, The Young Turks is number one in the news/politics category on YouTube, and triples CNN's video views:
Tubular
The Young Turks ranks #1 on the US News & Politics on YouTube
TYT Triples CNN in US news & politicakl views on YouTube

1. The Young Turks ranks #1 on the US News – Politics Leaderboard (Views from videos about US News – politics) – YouTube
OUT OF 921M VIEWS FROM VIDEOS UPLOADED IN THE LAST 365 DAYS
#1 The Young Turks 98.4M VIEWS
#2 CNN 32.4M VIEWS
#3 Fox News 30.8M VIEWS
#4 The White House 28.7M VIEWS
#5 Secular Talk 19.5M VIEWS

*Metrics as of April 2016

OpenSlate
Slatescore 778 – TYT is #1 in the News/Politics category: Slatescore, engagement, subscribers, and influence
He says that it's taken time, but the show is finally starting to get some recognition. I asked Cenk if he's gotten any feedback from CNN on the show's success, and here's what he said:
The first thing they look at is to see where we are. So, they're perfectly aware of exactly where we are, right? Because we're their main competition online, who else is their competition? You've seen the Comscore numbers, no one else is close to us and CNN.
The footsteps have been a long time coming, Uygur says. "We've been saying it and we've been proving it for six straight years, but finally, for whatever the reason, the rest of the press were like 'Oh, right, numbers! Facts!'"
It's probably no accident that their current streak tracks closely with the rise of Bernie Sanders' presidential candidacy, which The Young Turks have supported vocally and enthusiastically, but it's also built on a foundation of loyal paid members who have been helping to fund the site for over a decade now. When this election is finally over, though, those Bernie Sanders supporters aren't just going to disappear, and in fact, will probably appreciate a friendly place to go even more.
This is an opinion piece. The views expressed in this article are those of just the author.