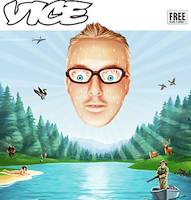 The $250,000 that Vice Magazine spent on an exclusive party in Brooklyn last month was a good investment in at least one respect: Vice has gotten scads of free, adoring media attention since. In an era when Condé Nast can't even afford newspaper subscriptions, any magazine, much less a free 150k circulation mag, throwing that kind of money around is big news.
The latest Financial Times profile of Vice highlights a few of its secrets to success. Namely: keep circ small and don't worry about newsstand revenue, but sell everything else.
The Financial Times being the Financial Times, it's most fascinated by the relationship between Vice, the free hip magazine, and Virtue, its juggernaut in-house ad agency:
[Vice] is able to leverage almost any opportunity. Don't want to buy as many pages in the magazine this month? Try sponsoring a special supplement, or take over the homepage at Viceland, the group's website, instead. And don't forget about that party at a music festival next month that could use an extra sponsor, which Vice will cover extensively in its next issue. Have you thought about bypassing the advertising slots altogether to make an online film for VBS that shows off your brand? Although most media companies attempt to offer a similar smorgasbord of opportunities, Vice's willingness to integrate brands directly into its content in a way other media owners would not marks it out.
Vice is not without its critics. For some media owners, Vice works too closely with advertisers and blurs the lines between the editorial and commercial parts of the business.

"Since day one, we have worked with brands and for brands," explains an unapologetic Mr Simon. "We are completely transparent in what we do."
Though Vice's frank willingness to slice-and-dice and sell any part of its product or process is jarring in the current media climate, maybe that's the climate's fault more than Vice's. After all, it's generally accepted as fair business when a film or television show makes money off of product placement; why should an entertainment product that does the same thing get criticized just because it's in print?
People would understandably be alarmed if, say, The New York Times sold coverage, but no one is under any illusions that Vice is The New York Times. The NYT may have been trying to be Vice with their "douchebag" cover story last week, but they're still a long way off from asking mentally disturbed people to take and review various drugs.
As print media continues to crumble and get poorer, strategies like Vice's may become the norm rather than objects of scolding.
Have a tip we should know? tips@mediaite.com